Por @latino.romano
Caminaba de un lado a otro dentro de mi apartamento para mitigar las ganas de salir a contemplar el horizonte y disfrutar del aire fresco.
Hacía un esfuerzo genuinamente loable por mantener mi cordura frente a las grises paredes que contenían todas mis energías. Tomé mis lienzos y se me ocurrió dibujar un campo de flores donde el virus no existía. Me inspiré en una serie de historias que leí en pocos días y que coloqué sobre mi mesa para darles un vistazo de vez en cuando.
El silencio era casi total, muy pocas personas viven en el mismo piso que yo. Por lo que fue toda una sorpresa para mí escuchar el timbre que anunciaba a un visitante.
Me asomé por la mirilla para ver quién era, y resultó ser un sujeto vestido de pie a cabeza con una bata blanca y protección especial contra la enfermedad. En sus manos llevaba un extraño artefacto que emitía luces y se hacía acompañar con dos oficiales que usaban una máscara de protección especial.
Cuando dijeron mi nombre, mis piernas perdieron fuerza y sentí que iba a desmayarme. Preguntaron si podían entrar y, aunque titubeé en contestar, finalmente les abrí y los invité a pasar a mi sala de estar.
El sujeto con el artefacto me tomó del brazo y resultó ser para tomarme la temperatura. Se miraron unos a otros extrañados y confundidos al notar que mi temperatura era normal.
Respondía preguntas como por diez minutos, con cada una de ellas me parecía que terminarían arrestándome y llevándome por la fuerza a confinarme en algún cuarto de hospital.
Luego de un rato, uno de los oficiales me pidió que dijera mi nombre completo, y cuando se los dije hicieron un gesto de sorpresa y me preguntaron por mi vecino del piso de abajo que se llama como yo.
Les indiqué como llegar allí y me sentí feliz de que se fueran. Al rato pude escuchar los gritos y quejas de mi vecino que era arrastrado por los oficiales hacia una ambulancia que los esperaba afuera.
Me senté en mi escritorio a contemplar la pintura que había hecho y se me quitaron todas las ganar de salir de casa.
Descargo de responsabilidad: Las opiniones que se traslucen en este texto obedecen a la óptica personal del autor quien, como toda persona, tiene derecho a expresarlas respetuosamente.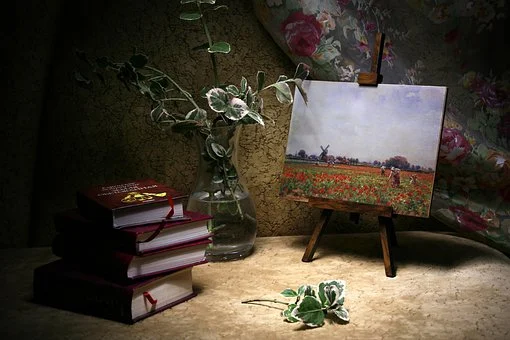 Gheyzer J. Villegas (@latino.romano) es un escritor hispano de relatos y poemas, miembro del mundialmente reconocido grupo The Alliance para quien escribe estos textos inéditos…
English version
By @latino.romano
I walked back and forth inside my apartment to relieve the urge to go out and look at the horizon and enjoy the fresh air.
I made a genuinely commendable effort to keep my sanity in the face of the gray walls that contained all my energy. I took my canvases and came up with the idea of drawing a field of flowers where the virus did not exist. I was inspired by a series of stories that I read in a few days and placed on my table to look at from time to time.
The silence was almost total, very few people live in the same flat as me. So it was quite a surprise for me to hear the bell announcing a visitor. I peeked through the peephole to see who it was, and it turned out to be a guy dressed from head to toe in a white coat and special protection against illness. In his hands he was carrying a strange light-emitting device and was accompanied by two officers wearing a special protective mask. When they called my name, my legs lost strength and I felt that I was going to faint.
They asked if they could come in, and although I hesitated to answer, I finally opened up and invited them into my living room. The guy with the device grabbed my arm and it turned out to be to take my temperature. They looked at each other puzzled and confused as they noticed that my temperature was normal.
I answered questions for about ten minutes, each one of which seemed like they would end up arresting me and forcing me to be confined to a hospital room. After a while, one of the officers asked me to say my full name, and when I told them, they gestured in surprise and asked me about my downstairs neighbor who had the same name as me.
I told them how to get there and I was happy for them to leave. After a while I could hear the screams and complaints of my neighbor who was being dragged by the officers into an ambulance waiting for them outside. I sat down at my desk to look at the painting I had done, and I had no desire to leave the house.
Disclaimer: The views expressed in this text are those of the author, who, like everyone else, is entitled to express them respectfully.