Por @latino.romano
¡Día a día una búsqueda incansable y un trabajo interminable por sobrevivir! Necesaria agonía, efímera alegría de opciones escasas para elegir.
Dos grandes rivales que se pasean por el bosque campantes, atentos a los brotes nacientes que la tierra floreciente les ofrece vacilante. Ricos aromas silvestres que engalanan el aire para atraer a los comensales, la tierra retumba en sus cimientos cuando llegan contentos a su mando los capitanes.
Hojas verdes, flores vistosas, tallos suaves y dulces frutos. Corren con su lento paso los grandes rivales a darse un buen gusto. Quien llegue primero será siempre el triunfador pues probará antes que el otro, de la hierba su rico sabor.
Vamos tortuga, apura tu paso que la hierba te espera. ¡Vamos tortuga! No mires a los lados, mira las flores y los frutos con su dulzura. Abre tu boca con afán e intensidad, así un gran bocado podrás degustar.
Si tu paso es lento y tu ritmo cansado es por estar corriendo todo el día. Compites con tu hermano a ver quién devora más hojas y obtiene más energía. Tus patas robustas te sirven de cuchara y tenedor, tus encías filosas hacen pedazos aquella flor. Una que es muy sabrosa y a tu rostro llena de color. La alegría de un buen platillo de brotes frescos para un campeón.
---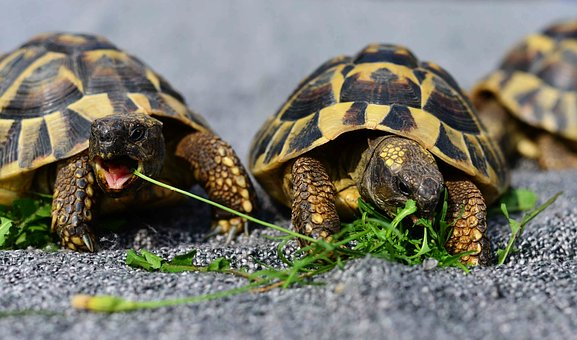 Esta invitación es solo para 100 personas, no pierdas la tuya: https://discord.gg/jCS6kZ4
---
By @latino.romano
Every day a tireless quest and endless work to survive! Necessary agony, ephemeral joy of scarce options to choose from.
Two great rivals who stroll through the woods campantes, attentive to the buds nascent that the flourishing earth offers them hesitant. Rich wild aromas that adorn the air to attract diners, the earth rumbles in its foundations when the captains arrive happily at their command.
Green leaves, colorful flowers, soft stems and sweet fruits. The great rivals run with their slow pace to give themselves a good taste. Whoever arrives first will always be the triumphant, for he will taste the rich taste of the herb before the other.
Come on turtle, hurry your step that the grass waits for you. Come on turtle! Don't look to the sides, look at the flowers and fruits with their sweetness. Open your mouth with eagerness and intensity, so you can taste a great bite.
If your pace is slow and your pace is tired is to be running all day. You compete with your brother to see who devours more leaves and gets more energy. Your sturdy legs serve as a spoon and fork, your sharp gums tear that flower to shreds. One that is very tasty and to your face full of color. The joy of a good dish of fresh shoots for a champion.
---