Por @latino.romano
Muchos rostros sonrientes saludaban al héroe a su regreso. Era fácil creer que sus sentimientos eran sinceros, pero lo cierto es que muchos de ellos estaban gobernados por una intrigante envidia disfrazada.
La gente clamaba las grandes hazañas del guerrero, los muchos "crosiak", temibles animales gigantescos, que habían sido eliminados por las fuertes manos del adalid. Valiente y temerario, gallardo y muy apuesto, despreciado por sus compañeros que apenas despertaban interés entre la multitud.
En su presencia estrechaban sus manos y desperdigaban profusos abrazos y palmadas de hombros. A sus espaldas conspiraban para arruinar su reputación, para acabar con su leyenda.
Eran tan absurdos en sus debates, que solían contradecirse sin ningún cuidado. Cobardes ante el peligro e incapaces ante la necesidad. Un montón de hombres buenos para nada, habladores hipócritas que aspiraban puestos en el trono por medio de la lisonja.
Sus pieles lucían lozanas, ausentes de cicatrices de batalla por su impericia en el combate. Los crosiak habrían arruinado al país entero a no ser por la determinación del héroe de gastarse a favor de los oprimidos. Todo un campeón que no estaba dispuesto a dar un paso atrás, ni ceder un ápice de terreno ante las bestias feroces.
Finalmente se enteró de la disputa en su contra, de las palabrerías necias de egoístas que no respetaban el temple y el coraje de un verdadero hombre. El desánimo se apoderó de él al descubrir la mentira en sus elogios, lo falaz de sus lenguas, la frialdad detrás de sus cálidos saludos.
Las desventuras de la vida pondrían en evidencia sus traicioneras acciones. Un grupo de crosiak cruzaron las defensas durante la noche, y en plena madrugada atacaron a la población despavorida.
Los flagrantes protectores, los que se ensalzaban a sí mismos, salieron llorando a las calles secundarias, corriendo aún en ropas de dormir, pisoteando a las ancianas y los niños para poder ponerse a salvo en madrigueras excavadas en el bosque. Todo un horror, una deshonra para la figura del valiente.
El héroe tuvo que salir a defender a su gente, vestido con sus trajes de campaña, portando su hacha y su coraza de valor. Se enfrentó sin dudar nada a todos los crosiak que se encontró en su camino. Hábil combatiente, puso todas sus energías en mantener ocupados a los enemigos mientras la gente huía a sus refugios. Uno a uno cayeron las bestias ante el filo dentado del metal. Un enfrentamiento épico que sacó a la luz lo mejor del guerrero y le hizo ganar el nombramiento de regente.
Jamás olvidó el pueblo la diferencia entre el rostro de un cobarde que se esconde tras argumentos fingidos, y el rostro de aquel guerrero cuyas acciones eran prueba suficiente de su valía. Hasta el día de hoy se dice "ve a esconderte bajo tierra" cuando se señala a algún cobarde, o alguien que desprecia a otros por envidia.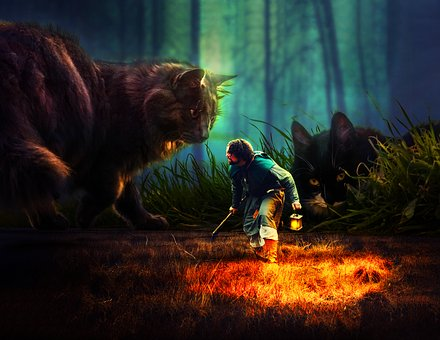 Esta invitación es solo para 100 personas, no pierdas la tuya: https://discord.gg/jCS6kZ4
---
By @latino.romano
Many smiling faces greeted the hero on his return. It was easy to believe that his feelings were sincere, but the truth is that many of them were governed by an intriguing envy in disguise.
People cried out for the great exploits of the warrior, the many "crosiak", fearsome giant animals, which had been eliminated by the strong hands of the champion. Brave and reckless, gallant and very handsome, despised by his companions who hardly aroused interest in the crowd.
In his presence they shook his hands and scattered profuse embraces and shoulders clapping. Behind them they conspired to ruin their reputation, to destroy their legend. They were so absurd in their debates that they used to contradict each other carelessly. Cowards in the face of danger and incapable in the face of necessity.
A bunch of good-for-nothing men, hypocritical talkers who aspired to the throne by flattery. Their skins wore luxuriant, devoid of battle scars for their inexperience in combat. The Crosiak had ruined the entire country except for the hero's determination to spend himself on behalf of the oppressed.
A champion who was unwilling to step back, not to yield an inch of ground to the ferocious beasts. Finally he learned of the dispute against him, of the foolish talk of selfish people who did not respect the mettle and courage of a true man.
Discouragement took hold of him when he discovered the lie in his praise, the fallacy of his tongues, the coldness behind his warm greetings. The misadventures of life would expose his treacherous actions. A group of crosiak crossed the defenses during the night, and in the middle of the night they attacked the terrified population.
The flagrant protectors, those who extolled themselves, ran out crying into the secondary streets, still running in sleeping clothes, trampling on the old ladies and children in order to get to safety in burrows dug out of the forest. A horror, a disgrace to the figure of the brave.
The hero had to go out to defend his people, dressed in his field suits, carrying his axe and his brave armour. He confronted without hesitation all the crosiak he encountered on his way. A skilled combatant, he put all his energies into keeping enemies busy as people fled to their shelters. One by one the beasts fell before the jagged edge of the metal.
An epic confrontation that brought out the best in the warrior and earned him the title of regent. The people never forgot the difference between the face of a coward who hides behind feigned arguments, and the face of that warrior whose actions were sufficient proof of his worth. To this day it is said "go hide under the ground" when you point out some coward, or someone who despises others out of envy. —