Por @latino.romano
No importa cuán ajetreada sea la vida en la ciudad, no es algo que le espante el sueño.
Ruido de autos, de gente que discute y de gente que ríe, de niños que corren a la escuela. Son como las nubes de tormenta que entoldan el mar de tanto en tanto. Nada escapa al vendaval que azota los barcos; las personas son como esos barcos que navegan capeando las olas embravecidas.
¡Tareas y más tareas! ¡Trabajo y más trabajo! El tiempo es un recurso escaso en los corazones sin descanso, en las almas que emprenden astutos proyectos más allá de los que pueden soportar.
Pero en las afueras de los límites de bullicio reposa tranquilo el felino, sin pensar en largas listas de cosas por hacer ni terminar.
Disfruta de la brisa fresca que sopla con constancia en los lugares altos, del brillo del Sol que calienta su cuerpo y de la música de fondo que ofrecen el trino de las aves. Su sueño no se interrumpe por problemas familiares, ni es arrebatado de su estado onírico por alarmas de relojes de campana. Es la belleza de la sencillez y la vida tranquila.
Una vida tranquila y placentera, enfocada en lo necesario y no en los deseos. La noche llegará en un rato, será hora de dar una ronda por el vecindario, de abrumar a algunos ratones con sus garras, de enamorar a las felinas con su maullido.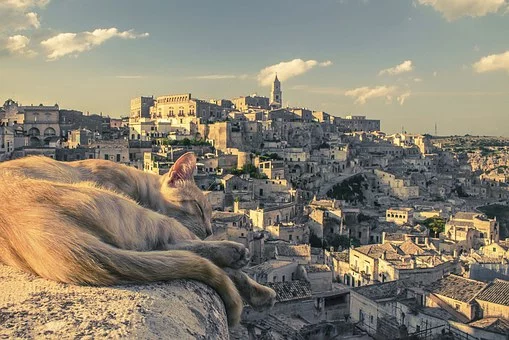 Gheyzer J. Villegas (@latino.romano) es un escritor hispano de relatos y poemas, miembro del mundialmente reconocido grupo The Allince para quien escribe estos textos inéditos…
By @latino.romano
No matter how busy life is in the city, it doesn't scare you out of your sleep.
The noise of cars, people arguing and people laughing, children running to school. It's like the storm clouds that blanket the sea from time to time. Nothing escapes the gale that whips the boats; people are like those boats that sail through the rough waves.
Chores and more chores! Work and more work! Time is a scarce resource in the hearts of those who are restless, in the souls that undertake cunning projects beyond those they can bear.
But on the outskirts of the hustle and bustle, the feline rests peacefully, with no thought of long lists of things to do or finish.
Enjoy the cool breeze that blows steadily from high places, the sunshine that warms your body, and the background music offered by the birds' trill. Your sleep is not interrupted by family problems, nor is it snatched from your dream state by bell-clock alarms. It is the beauty of simplicity and quiet life.
A quiet and pleasant life, focused on what is necessary and not on desires. The night will come in a while, it will be time to give a tour of the neighborhood, to overwhelm some mice with its claws, to fall in love with the cats with its meow.