Por @latino.romano
Un colibrí no puede volar en el espacio, tomar un lugar al lado de una estrella y hacer sus alas brillar.
Una roca arenosa no puede tomar un puesto en una mesa, o ser servida junto a un sabroso platillo sin importunar a los comensales.
Una sandía no puede ir a la playa a darse un baño en la orilla, es totalmente absurdo, es estar desubicado. Significa no tener sentido de lo que está bien o cómo debe ordenarse todo.
La lista podría ser interminable. Pero ¿De qué estoy hablando? De no encajar. Sencillamente de no sentirse parte de ningún lugar o tener la sensación de que no deberíamos estar donde estamos.
¿Qué puede estar haciendo una sandía en la playa? ¿Cómo llegó hasta allí? Quizás alguien la olvidó, alguien que si tenía su lugar en la playa y se hartó de comer, despreciando a la pobre fruta y dejándola a su suerte.
Es triste por la sandía, pero simplemente no encaja. Así pensarán muchos que están acostumbrados a pasearse por la arena desfilando para mostrar sus bronceados y lo bien que ocultan sus rolletes de carne (por favor olvida esa última imagen mental). Solo esperan ver gente recostada sobre toallas de baño, chicas jugando voleibol y sujetos surfeando a lo lejos.
¡Ver una sandía en la orilla! Eso no encaja… ¡Es absurdo! Dicen sin dudar ni parpadear. Les parece fuera de onda.
Pero no dicen nada cuando en la playa aparece un envase de plástico rodando en la arena, o una bolsa de supermercado, o el envoltorio de unas galletas o la colilla de un cigarrillo. Ante esa "basura" no se atreven a decir nada. Quizá es porque ellos mismos han arrojado basura de ese tipo a la arena.
Es irónico, pero de esta ironía está llena el mar. Este mismo post es como la sandía en la playa. Veamos a cuántos le molesta y le parece absurdo su contenido, mientras arrojan sus servilletas sucias al agua.
¿Me estoy quejando por algo?… ¡No, no! No, no, no, absolutamente no. Yo estoy muy bien, he venido a la playa y he comido tanto que decidí dejar esta sandía en la orilla, creo que lejos de ser criticado debería ser recompensado porque mi "basura" es mejor que la de los demás en mi humilde opinión.
Descargo de responsabilidad: Las opiniones que se traslucen en este texto obedecen a la óptica personal del autor quien, como toda persona, tiene derecho a expresarlas respetuosamente.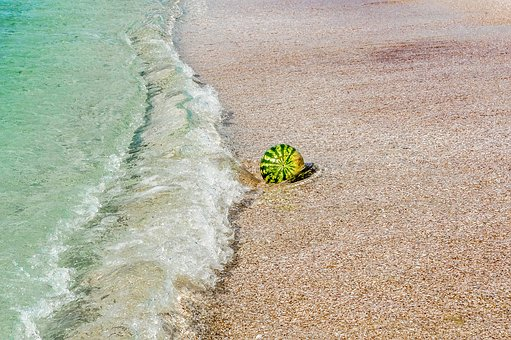 Gheyzer J. Villegas (@latino.romano) es un escritor hispano de relatos y poemas, miembro del mundialmente reconocido grupo The Alliance para quien escribe estos textos inéditos…
English version
By @latino.romano
A hummingbird cannot fly in space, take a place next to a star and make its wings shine. A sandy rock cannot take a place at a table, or be served next to a tasty dish without disturbing the diners. A watermelon cannot go to the beach to take a bath on the shore, it is totally absurd, it is to be out of place. It means not having a sense of what is right or how everything should be ordered.
The list could be endless. But what am I talking about? Not fitting in. Simply not feeling part of anywhere or having the feeling that we shouldn't be where we are. What could a watermelon be doing on the beach? How did it get there? Maybe someone forgot it, someone who had his place on the beach and got fed up with eating, despising the poor fruit and leaving it to its own devices.
It's sad about the watermelon, but it just doesn't fit. So many will think that they are used to walking around in the sand parading to show their tans and how well they hide their meat rolls (please forget that last mental image). They just expect to see people lying on bath towels, girls playing volleyball and guys surfing in the distance. To see a watermelon on the shore! That doesn't fit… It's absurd! They say without hesitation or blinking.
They think it's uncool. But they don't say anything when on the beach a plastic bottle rolls out in the sand, or a grocery bag, or a cookie wrapper, or a cigarette butt. In the face of this "garbage" they don't dare say anything. Perhaps it is because they themselves have thrown such rubbish into the sand. It's ironic, but the sea is full of this irony.
This very post is like the watermelon on the beach. Let's see how many people find its contents annoying and absurd, while they throw their dirty napkins into the water.
Am I complaining about something? No, no! No, no, no, absolutely not. I am very well, I came to the beach and I ate so much that I decided to leave this watermelon on the shore, I think that far from being criticized I should be rewarded because my "garbage" is better than the others in my humble opinion.
Disclaimer: The views expressed in this text are those of the author, who, like everyone else, is entitled to express them respectfully.