Por @latino.romano
Llevaba días pensando en una forma de sorprenderla. Le encantaba mirar esa sonrisa alegre en su rostro.
Ya había utilizado flores, bombones de chocolate, postales, canciones, poemas, bizcochos, mascotas y muchas cosas más. Pero deseaba en verdad iluminarle el día con algo especial.
—Te daré una sorpresa esta tarde —le dijo— Veremos el atardecer cerca de las montañas.
—Pero ya hemos hecho eso antes —respondió ella.
—Pero esta vez sentirás la brisa suave rosando tus mejillas como nunca —le aseguró.
—Siempre hay brisa cerca de las montañas, y siempre la siento tocar mis mejillas.
—Pero esta vez sentirás que flotas en el aire.
—¿Qué cosas dices? No veo como puede ser diferente esta vez a las otras anteriores.
El atardecer anunció el preludio de la noche. El Sol bañó el terreno con un hermoso tinte color ámbar. Las aves dieron un saludo de buenas noches, mientras se determinaban a buscar refugio en los peñascos.
Una venda le cubría el rostro mientras caminaba al lugar indicado. Tomada por su amado de la mano esperaba ansiosa conocer la sorpresa. Se imaginaba un olor a flores y también sabores a vino blanco. Pensaba en las posibles frases de amor que escucharía de su galante enamorado. Todas sus expectativas se cumplirían, y también se asombraría por el ingenio de quien deseaba halagarla.
Un enorme globo los esperaba cerca de la colina. No sería un atardecer cualquiera, sería un paseo que no olvidaría. Uno donde la brisa rosaría sus mejillas de forma especial, donde las montañas estarían más hermosas que nunca, donde la copa de vino apenas sería mencionada, donde el corazón se les hincharía de felicidad y emoción por una encantadora velada.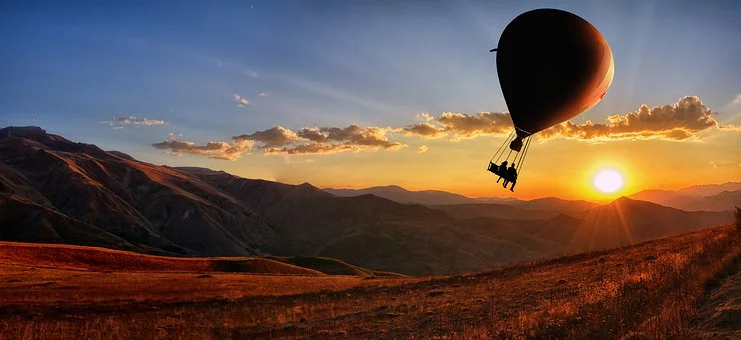 Gheyzer J. Villegas (@latino.romano) es un escritor hispano de relatos y poemas, miembro del mundialmente reconocido grupo The Allince para quien escribe estos textos inéditos…
By @latino.romano
I've been thinking of a way to surprise her for days. She loved to look at that happy smile on her face.
She had already used flowers, chocolate bonbons, postcards, songs, poems, biscuits, pets and many other things. But I really wanted to brighten her day with something special.
-I'll give you a surprise this afternoon," he said. "We'll see the sunset near the mountains.
-But we have done that before," she said.
-But this time you will feel the gentle breeze rosing your cheeks as never before," he assured her.
There is always a breeze near the mountains, and I can always feel it touching my cheeks.
-But this time you will feel that you are floating in the air.
-What are you saying? I don't see how it can be different this time from the previous ones.
The sunset announced the prelude to the night. The sun bathed the land in a beautiful amber color. The birds waved good night, as they determined to seek shelter on the rocks.
A bandage covered their faces as they walked to the right place. Taken by her beloved by the hand she waited anxiously to know the surprise. She imagined the smell of flowers and the taste of white wine. She thought of the possible love phrases she would hear from her gallant lover. All her expectations would be fulfilled, and she would also be amazed by the ingenuity of those who wished to flatter her.
A huge balloon was waiting for them near the hill. It would not be just any old sunset, it would be a walk he would not forget. One where the breeze would rosen your cheeks in a special way, where the mountains would be more beautiful than ever, where the glass of wine would hardly be mentioned, where your heart would swell with happiness and excitement for a lovely evening.