Por @latino.romano
Me he sentado en este mismo lugar por semanas seguidas. Siempre me impresiona el tiempo que pasa frente a mis ojos sin poder aprovechar sus beneficios.
Al principio me entusiasmaba la idea de verte bajar de uno de esos vagones, de mirar la sorpresa en tu rostro y tu sonrisa hermosa como la luna llena. Repasaba en mi mente las palabras apropiadas para saludarte; unas que mezclaran alegría, amor y elegancia en su justa medida.
Me imaginaba apartando los mechones dorados de tu rostro que el viento impulsaba a cubrir tus ojos. La excusa perfecta para dejar una suave caricia en tus mejillas.
Procuraba no olvidar el dinero guardado que celosamente llevaba en mi bolsillo. Con este pretendía invitarte un rico café en la tienda de la estación. El café me importaba poco, la mujer que vendía rosas justo al frente de la tienda era mi cómplice, atenta a hacerte un regalo en mi nombre tan pronto nos viera llegar.
Los deseos no cumplidos son un veneno que mata la ilusión y carcome la felicidad.
Algunos días después, el entusiasmo dio paso a una expectación sombría, agobiante. Miraba con recelo cada tren que pasaba preguntándome en cuál estarías, si vendrías acompañada, si era la hora correcta del día para aguardar tu regreso. Una sensación de rencor se apoderaba de mí cada vez que no tenía éxito.
Pronto comencé a llagar a la estación con el rostro decaído, motivado por una odiosa curiosidad más que por las ganas románticas de volver a verte.
Para mí fue muy duro enterarme de la fatídica noticia. Aquel mensajero fortuito que me abordara complacido una mañana de invierno. En sus palabras busqué errores que delataran una mentira, en su historia busqué lagunas que gritaran "somos rumores".
Toda una vida pintada con acuarelas. Figuras difusas de colores vivos, de siluetas encantadoras que nos mostraban tomados de la mano caminando de frente al ocaso. Mis lágrimas ocultas borraban aquellas formas, como cuando un vaso de agua derramado daña un precioso arte sobre el papel.
Me negué a creer que te había perdido. Di mi espalda a la idea de no volver a verte.
Finalmente el miedo a la verdad se apoderó de mí. Me aterraba cada vez que alguien bajaba al andén, me aterraba que ese alguien nunca fueras tú.
Sé que debo resignarme a lo que escapa de mi control, que la vida debe seguir su curso y yo debo seguirlo con ella. Estoy convencido de las intenciones amables de mis amigos, aquellos que me alientan a dar un paso adelante.
Pero aún sigo yendo a la estación cada día, aún miro en los vagones buscando tus mechones dorados, aún alquilo a la dama que vende rosas frente al café de la estación, esperando que se cumpla mi sueño de volver a estar contigo.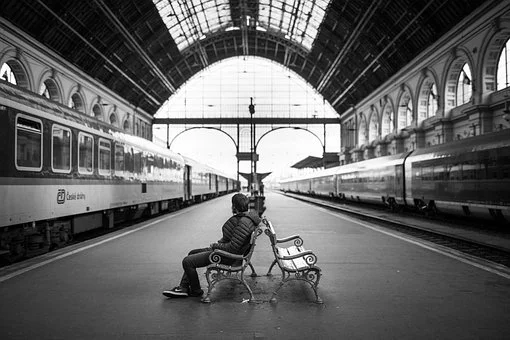 Gheyzer J. Villegas (@latino.romano) es un escritor hispano de relatos y poemas, miembro del mundialmente reconocido grupo The Allince para quien escribe estos textos inéditos…
By @latino.romano
I've been sitting in this same spot for weeks straight. I am always impressed by the time that passes in front of my eyes without being able to take advantage of its benefits.
At first I was excited to see you get off one of those cars, to see the surprise on your face and your beautiful smile like the full moon. I was going over in my mind the appropriate words to greet you; ones that would mix joy, love and elegance in their right measure.
I imagined myself pushing away the golden locks on your face that the wind was pushing to cover your eyes. The perfect excuse to leave a soft caress on your cheeks.
I tried not to forget the money I jealously carried in my pocket. With this I intended to invite you to a nice coffee at the station store. I didn't care much for coffee, the woman who sold roses right in front of the shop was my accomplice, ready to give you a gift on my behalf as soon as she saw us arrive.
Unfulfilled wishes are a poison that kills illusion and eats up happiness.
A few days later, the enthusiasm gave way to a gloomy, overwhelming expectation. I looked askance at each train that passed by, wondering which one you would be on, if you would be accompanied, if it was the right time of day to wait for your return. A feeling of resentment came over me every time I did not succeed.
I soon began to arrive at the station with a downcast face, motivated by an odious curiosity rather than by a romantic desire to see you again.
It was very hard for me to hear the fateful news. That fortuitous messenger who approached me with pleasure on a winter morning. In his words I looked for errors that would give away a lie, in his story I looked for loopholes that would shout "we are rumors".
A whole life painted in watercolors. Diffuse figures of bright colors, of charming silhouettes that showed us holding hands walking facing the sunset. My hidden tears erased those shapes, like when a spilled glass of water damages a precious art on paper.
I refused to believe that I had lost you. I turned my back on the idea of never seeing you again.
Finally, the fear of the truth took hold of me. I was terrified every time someone came down to the platform, terrified that that someone would never be you.
I know that I must resign myself to what is beyond my control, that life must take its course and I must follow it with it. I am convinced of the kind intentions of my friends, those who encourage me to take a step forward.
But I still go to the station every day, still look in the carriages for your golden locks, still rent the lady who sells roses in front of the station café, hoping that my dream of being with you again will come true.