Por @latino.romano
Cierto día Makalu salió a recorrer el bosque como solía hacerlo a diario. Su curiosidad parecía no tener límites, y lejos de traerle algo de fama entre su grupo, esto le hizo ganarse malestares y desprecio entre los otros monos.
A pesar de los inconvenientes, Makalu continuaba en su búsqueda de cosas interesantes en la vida. Colgándose por los árboles de guayaba, atinó a ver un sendero que lo llevaría a un asentamiento humano.
Tardó algunos minutos en llegar, y pronto se quedó asombrado de la gran cantidad de cosas nuevas y muy extrañas que en la cuidad habían.
Todo era diferente a lo que se miraba en el bosque. El ruido constante, las personas caminando de un lugar a otro, los variados colores de los edificios y automóviles. Makalu no cabía en su asombro y estaba muy emocionado al pensar en volver y contarle a su grupo todas las cosas que encontró en la ciudad.
Una en especial llamó poderosamente su atención. Era algo liso como la superficie de las rocas alhajas, tenía el brillo de un lago al amanecer, pero parecía ser la entrada a otro mundo como el nuestro.
Cuando le informó a Balele, el mono más más sabio de la familia y el jefe patriarcal del grupo, este no quiso creerle su historia y le ordenó que desistiera de esos viajes peligrosos a la tierra de los hombres.
Pero el carácter insistente de Makalu y su manera particular de describir los objetos que miró, acabaron por despertar el interés del jefe Balele quien ordenó una expedición al lugar.
La idea de conocer un extraño objeto liso y brillante como el agua, que a su vez fuera una entrada a otro mundo, era algo que el jefe podía usar para hacerse superior a otras familias de monos de la zona. Convocó a los más ágiles y valientes para el viaje.
Al llegar a la cuidad, sintieron un enorme temor al ver las muchas cosas nuevas y ruidosas que jamás habían visto en el bosque.
Makalu les indicó que no tenían que preocuparse, solo debían ser discretos y no interferir con las actividades del hombre y sus artefactos.
El jefe no estaba tan convencido de que no hubieran peligros en aquel lugar, pero no se marcharía sin antes ver el extraño objeto del que le habló el joven mono.
Pronto se detuvieron ante un vehículo estacionado en una calle, y todos los monos se admiraron al descubrir que Makalu tenía razón sobre su descubrimiento. El objeto era fantástico, algo extraordinario. El jefe no cabía en su alegría, y no dejaba de sonreír al acercarse al curioso elemento.
Hizo que los monos más fuertes lo desprendieran y arrancaran de su lugar para llevárselo al bosque. Desde entonces Makalu se hizo famoso en la familia y muchos monos comenzaron a adentrarse en los terrenos del hombre para descubrir cosas nuevas que tomar para sí.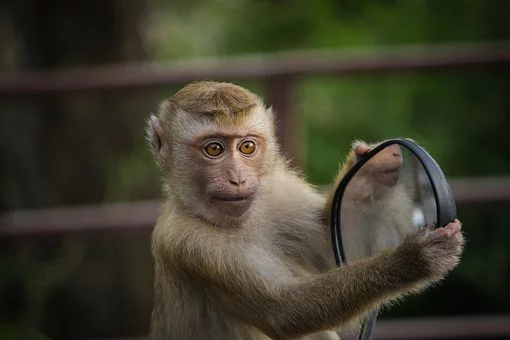 Gheyzer J. Villegas (@latino.romano) es un escritor hispano de relatos y poemas, miembro del mundialmente reconocido grupo The Allince para quien escribe estos textos inéditos…
By @latino.romano
One day Makalu went out into the woods as he used to do every day. His curiosity seemed to know no bounds, and far from bringing him any fame among his group, it earned him discomfort and contempt among the other monkeys.
Despite the odds, Makalu continued his search for interesting things in life. Hanging from the guava trees, he managed to see a path that would lead him to a human settlement.
It took him a few minutes to arrive, and he was soon amazed at the many new and strange things in the city.
Everything was different from what he saw in the forest. The constant noise, the people walking from place to place, the varied colours of the buildings and cars. Makalu could not contain his amazement and was very excited at the thought of returning and telling his group all the things he found in the city.
One in particular caught his attention. It was as smooth as the surface of the rocks, it had the glow of a lake at dawn, but it seemed to be the entrance to another world like ours.
When he informed Balele, the wisest monkey in the family and the patriarchal leader of the group, he did not want to believe his story and ordered him to desist from those dangerous journeys to the land of men.
But the insistent character of Makalu and his particular way of describing the objects he looked at, ended up arousing the interest of chief Balele who ordered an expedition to the place.
The idea of meeting a strange object as smooth and shiny as water, which in turn was an entrance to another world, was something the chief could use to make himself superior to other monkey families in the area. He summoned the most agile and courageous for the journey.
When they arrived in the city, they felt a great fear as they saw the many new and noisy things they had never seen in the forest.
Makalu indicated that they did not need to worry, just be discreet and not interfere with the activities of the man and his artifacts.
The chief was not so convinced that there were no dangers in this place, but he would not leave without seeing the strange object the young monkey spoke of.
They soon stopped in front of a vehicle parked on a street, and all the monkeys were amazed to discover that Makalu was right about his discovery. The object was fantastic, something extraordinary. The chief was overjoyed, and he kept smiling as he approached the curious element.
He had the strongest monkeys tear it apart and carry it off into the forest. Since then Makalu became famous in the family and many monkeys began to go into the lands of man to discover new things to take for themselves.