Por @latino.romano
Los tonos naranjas del cielo estaban adornados por las nubes grises que desfilaban de naciente a poniente. Una bandada de aves pasaban poéticamente frente a ellos.
Las olas bañaban la orilla, bramando con dulzura como quien arrulla a un niño antes de dormir. La brisa era fresca y la belleza del momento superaba las angustias que sentían. Habían viajado muchos kilómetros para encontrarse con el ocaso en el mar, quizá el último ocaso que vería en mucho tiempo.
El dolor de sus manos y la debilidad de sus ojos eran superadas por la emoción del momento. La alegría es un sentimiento poderoso para los que suelen nadar entre dolor y decepciones.
Una nueva vida comenzaban, y esta acabaría pronto, perseguida por una enfermedad mortal. Pero su amor mutuo superaba este obstáculo, y el cumplir lo prometido se había vuelto prioridad.
Una esposa por unos días, un esposo por un tiempo fugaz, un amor eterno y una fidelidad épica; eran los personajes heroicos que contemplaban el nacimiento de la noche frente a la playa.
La esperanza no sele ser pasajera, quizá se esconda como una liebre que escapa de su depredador, pero luego se asoma de nuevo para enternecer con su figura.
Ambos dibujaban sonrisas enormes en sus rostros y las frases de amor sonaban como canciones de fondo.
Jamás olvidarían esa tarde, donde tendrían su primer recuerdos de esposos. Donde se dirían finalmente adiós… por un tiempo.
---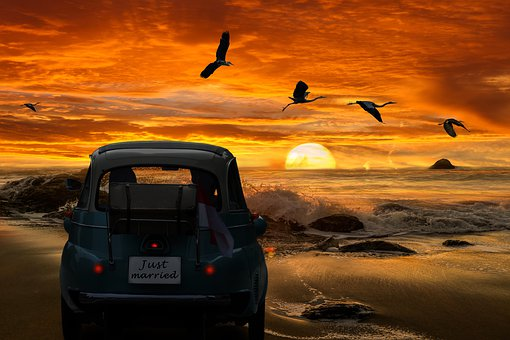 Esta invitación es solo para 100 personas, no pierdas la tuya: https://discord.gg/jCS6kZ4
---
By @latino.romano
The orange tones of the sky were adorned by the grey clouds that paraded from east to west. A flock of birds passed poetically in front of them.
The waves bathed the shore, roaring softly like a child's lullaby before going to sleep. The breeze was fresh and the beauty of the moment overcame the anguish they felt. They had traveled many miles to meet the sunset in the sea, perhaps the last sunset I would see in a long time.
The pain in their hands and the weakness in their eyes were overcome by the emotion of the moment. Joy is a powerful feeling for those who often swim between pain and disappointment.
A new life began, and it would soon end, haunted by a deadly disease. But their mutual love overcame this obstacle, and fulfilling what had been promised had become a priority.
A wife for a few days, a husband for a fleeting time, an eternal love and an epic fidelity; they were the heroic characters contemplating the birth of the night in front of the beach.
Hope may not be fleeting, it may hide like a hare that escapes from its predator, but then comes out again to be tender with its figure.
Both drew huge smiles on their faces and the love phrases sounded like background songs.
They would never forget that afternoon, where they would have their first memories of husbands and wives. Where they would finally say goodbye… for a while.
---