Por @latino.romano
—¡Ha caído por la borda! —gritó a todo pulmón el primer oficial.
La desesperación era evidente en su rostro. Sentía como si una parte de sí mismo era arrancada desde lo más profundo de sus entrañas. Al verle indefenso en medio de las embravecidas olas, se movía con torpeza intentando buscar un gancho para lanzarlo al mar y subirlo de nuevo a bordo.
Varios tripulantes contemplaron aterrados la veracidad de la alerta del primer oficial. El fuerte viento y el bamboleo del barco pintaban un cuadro desalentador, un rescate difícil por no decir imposible. Todos los hombres pensaban al unísono en lo desconsolador que sería perderlo en el vasto océano; esto debido al gran aprecio que le tenían.
El capitán emergió del puente de mando portando un potente arpón clavado a una red. Ya había efectuado rescates arriesgados antes, todos efectivos; no estaba dispuesto en esta ocasión a perder a nada ni a nadie más en el tirano vientre del goloso mar.
—¡A un lado marineros! ¡Lo subiré de nuevo a bordo aunque sea lo último que haga! —gritó el capitán disparando su arma.
El gancho y la red pasaron muy lejos del objetivo. El oleaje no era nada gentil con aquellos hombres que procuraban hacer el rescate a la vez que se aferraban a las barandas de cubierta.
Para el capitán fue un golpe en su orgullo haber fallado el tiro. Los truenos y la lluvia dificultaban dar órdenes a sus subalternos. Algunos señalaban, bañados en lágrimas y agua salada, la robusta sombra que se alejaba cada vez más del barco en medio de la tormenta.
El primer oficial se lanzó al agua amarrado a una cuerda, totalmente dispuesto a recobrar la carga perdida. Un barril de whisky añejado por 20 años que la compañía había recibido como pago por un viaje. En la inmensidad y soledad de aquel océano, el mejor compañero que aquellos marineros podían tener.
No estaban dispuestos a perderlo. Hasta empeñarían sus propias vidas y se arriesgarían a ser recordados cómo héroes, antes de renunciar a probar el cálido y costoso licor; para ellos cien veces mejor que las aguas más dulces de arroyos continentales.
---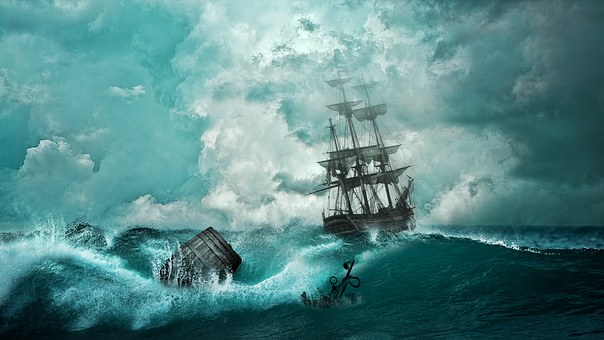 Esta invitación es solo para 100 personas, no pierdas la tuya: https://discord.gg/jCS6kZ4
---
By @latino.romano
-He fell overboard! -the first officer shouted at the top of his lungs.
Desperation was evident on his face. He felt as if a part of himself was torn from the deepest part of his bowels. Seeing him helpless in the middle of the raging waves, he moved awkwardly trying to find a hook to throw him into the sea and get him back on board.
Several crew members were terrified by the truthfulness of the first officer's alert. The strong wind and the wobble of the ship painted a discouraging picture, a difficult, if not impossible, rescue. All the men thought in unison how distressing it would be to lose him in the vast ocean; this because of the great appreciation they had for him.
The captain emerged from the bridge carrying a powerful harpoon nailed to a net. He had made risky rescues before, all effective; he was not willing on this occasion to lose anything or anyone else in the tyrannical belly of the greedy sea.
-On the sailors' side! I'll bring him back on board even if it's the last thing I do! -shouted the captain, firing his weapon.
The hook and the net went too far from the target. The swell was not at all gentle with those men who tried to do the rescue while clinging to the deck rails.
For the captain it was a blow to his pride to have missed the shot. Thunder and rain made it difficult to give orders to his subordinates. Some pointed out, bathed in tears and salt water, the sturdy shadow that moved further and further away from the ship in the midst of the storm.
The first officer threw himself into the water tied to a rope, fully ready to recover the lost cargo. A barrel of whisky aged for 20 years that the company had received as payment for a trip. In the immensity and solitude of that ocean, the best companion those sailors could have.
They were not willing to lose him. They would even pawn their own lives and risk being remembered as heroes, before giving up the warm and expensive liquor; for them a hundred times better than the fresher waters of continental streams.