Por @latino.romano
Siento que jamás fue suficiente para mí vivir en un único planeta, que el espacio exterior me llamaba a gritos desde la inmensidad de su oscuridad.
A veces leo en los libros de historia sobre la época en que aún los viajes espaciales no eran posibles. Cuando las naves apenas se utilizaban en enviar sondas y telescopios para observar el sistema solar. Una época en la que la humanidad tenía una comprensión de los misterios del cosmos muy avanzada, y a la vez eran inmensamente ignorantes.
He visto fotografías curiosas de gente que ya ha muerto. Con ropas muy distintas a las de hoy, y donde las enfermedades todavía eran un problema grave.
Me pregunto cómo era despedirse de alguien en aquellos tiempos. ¿Sentía la gente pesar y tristeza porque un ser querido se alejara apenas la distancia de un océano? ¿Era esa tristeza más profunda si el viaje duraba algunos años?
Hoy viajamos millones de veces la distancia de todos los mares de la Tierra juntos. El tiempo más corto para nuestra generación es de unos cien años. Sin embargo, puedo sentir el peso que agobia mi pecho al mirar por esta ventana, y saber que volveré a verte en medio siglo, una jornada de trabajo simple para un explorador sideral.
Me pregunto si vale la pena todo el esfuerzo y los sacrificios invertidos en estas misiones. No deja de golpear mi cabeza la idea de que sería mejor para mí pasar más tiempo contigo que estar durmiendo en una capsula de conservación por años enteros.
En las fotos antiguas me he encontrado con imágenes de familias felices, todas juntas celebrando un día de verano, contemplando una puesta de Sol, o pescando apaciblemente en un lago.
Las fotos de hoy son solo de personas solitarias, vestidas con trajes gravitacionales y posando frente a galaxias o instrumentos de una nave. Todas ellas con hijos y esposas a decenas de años luz de distancia.
Siento que algo no está bien en todo esto. Que nos hemos dejado arrebatar algo importante por nuestra ambición de progreso. Que estamos engañados al creer que una vida con propósito es posible fuera de nuestro planeta y lejos de los que nos aman.
He perdido la cuenta de las veces que me he parado frente a esta ventana a decir adiós antes de dormirme. Nunca he sabido si será la última vez que lo haga.
Quizá deba replantearme mi existencia, darle un giro diferente a mis sueños y deseos. Quizá deba quedarme la próxima vez y procurar ser para ti el padre que tanto necesitas. ¿Cómo podré sostenerme y vivir entonces? Tal como lo hicieron los hombres de esas fotos históricas para quienes su propio planeta era lo único que tenían.
Quizá entonces pueda tener mi propia fotografía contigo…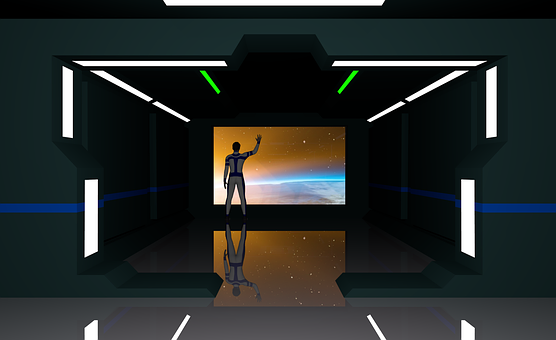 Gheyzer J. Villegas (@latino.romano) es un escritor hispano de relatos y poemas, miembro del mundialmente reconocido grupo The Allince para quien escribe estos textos inéditos…
By @latino.romano
I feel that it was never enough for me to live on a single planet, that outer space was calling out to me from the immensity of its darkness.
Sometimes I read in history books about the time when even space travel was not possible. When ships were barely used to send probes and telescopes to observe the solar system. A time when humanity had a very advanced understanding of the mysteries of the cosmos, yet were immensely ignorant.
I've seen curious photographs of people who've already died. In very different clothes to those of today, and where disease was still a serious problem.
I wonder what it was like to say goodbye to someone in those days. Did people feel grief and sadness because a loved one was barely an ocean away? Was that sadness deeper if the journey lasted a few years?
Today we travel millions of times the distance of all the seas on earth together. The shortest time for our generation is about a hundred years. However, I can feel the weight weighing on my chest as I look out this window, and know that I will see you again in half a century, a simple journey for an outer explorer.
I wonder if it is worth all the effort and sacrifices invested in these missions. It keeps pounding in my head the idea that it would be better for me to spend more time with you than to be sleeping in a conservation capsule for years on end.
In the old photos I have come across images of happy families, all together celebrating a summer day, watching a sunset, or peacefully fishing on a lake.
Today's pictures are just of lonely people, dressed in gravitational suits and posing in front of galaxies or instruments of a ship. All of them with children and wives tens of light years away.
I feel that something is not right about all this. That we've let something important be taken away from us by our ambition for progress. That we are deluded into believing that life with purpose is possible outside our planet and away from those who love us.
I've lost count of the times I've stood in front of this window and said goodbye before I fell asleep. I never know if it will be the last time.
Maybe I should rethink my existence, put a different spin on my dreams and desires. Maybe I should stay the next time and try to be the father you need so badly. How will I be able to hold on and live then? Just like the men in those historical photos for whom their own planet was all they had.
Maybe then I can have my own picture with you…