Por @latino.romano
Sus ojos estallaban en furia y rencor hacia su adversario. Resoplaba espetando improperios para amedrentar al osado torero.
Con sus pantalones ajustados y su faja azul bordeando su cintura, alardeaba con manos desnudas, desafiando al gigantesco animal a cornearlo si le era posible. La gente vitoreaba su nombre con algarabía, aclamando a su héroe mientras arrojaban rosas a la arena.
Un simple descuido al avistar la sensual mirada de una dama fue suficiente para darle la ventaja al animal, el cual descargó todo su enojo sobre el débil cuerpo de aquel pobre hombre que en un segundo se convirtió en pájaro y tuvo gratis su primera lección de vuelo.
Ya lo dice un refrán popular: Si te metes con el toro… no le temas a la cornada.
Cuántas veces nos presentamos desafiantes ante quien creemos podemos dominar con solo agitar una capa. Quizá tenemos éxito en apabullarle un par de veces hasta que el "toro" decide cornearnos en un descuido.
No se requiere ser muy inteligente para saber que todo acto tiene consecuencias, algunas de estas pueden ser algo dolorosas para nosotros. Pero si reconocemos nuestra parte de la culpa es probable que la situación sea menos desagradable de lo que realmente podría ser.
Desde luego que una cornada no es cosa grata a nadie, pero se ha visto a toreros profesionales levantarse casi ilesos después de una embestida que parecía mortal. Quizá corramos con la misma suerte, pero ¿para qué arriesgarnos? Y en caso de que nuestra meta sea correr ese riego, entonces recordemos el dicho: Si te metes con el toro….
Descargo de responsabilidad: Las opiniones que se traslucen en este texto obedecen a la óptica personal del autor quien, como toda persona, tiene derecho a expresarlas respetuosamente.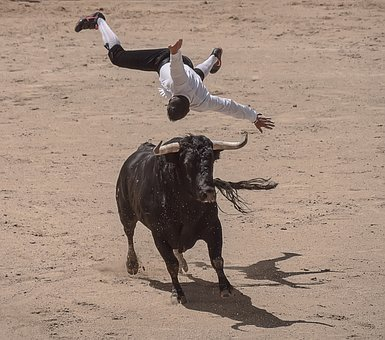 Gheyzer J. Villegas (@latino.romano) es un escritor hispano de relatos y poemas, miembro del mundialmente reconocido grupo The Alliance para quien escribe estos textos inéditos…
English version
By @latino.romano
His eyes burst into fury and resentment of his opponent. He snorted out insults to frighten the daring bullfighter.
With his tight pants and blue sash around his waist, he flaunted his bare hands, challenging the giant animal to gore him if possible. The people cheered his name with joy, acclaiming their hero as they threw roses into the arena.
A simple carelessness in watching the sensual gaze of a lady was enough to give the animal the upper hand, which poured all its anger on the weak body of that poor man who in a second became a bird and had his first flying lesson for free. There is a popular saying: If you mess with the bull… don't be afraid of the goring. How many times do we present ourselves defiantly to someone we think we can dominate just by shaking a cape?
Maybe we succeed in overpowering him a couple of times until the "bull" decides to gore us in a careless way. It does not take much intelligence to know that every act has consequences, some of which can be somewhat painful for us.
But if we acknowledge our share of the blame, the situation is likely to be less unpleasant than it really could be. Of course, a goring is not pleasant to anyone, but professional bullfighters have been seen rising almost unharmed after a seemingly deadly onslaught.
Perhaps we will meet the same fate, but why risk it? And in case our goal is to take that risk, then let's remember the saying: If you mess with the bull…
Disclaimer: The views expressed in this text are those of the author, who, like everyone else, is entitled to express them respectfully.