Por @latino.romano
Las sombras ya no se mueven con el giro de la tierra. El Sol transcurre su camino arrogante sin reparar en la miseria.
Son los días más calmados desde que los aplausos se desvanecieron en el tiempo. Los pájaros agotados decidieron descansar muy lejos. Sus crías serán para un futuro incierto donde quizá regresen los invasores a reclamar el despojo del pueblo.
Dolor, dolor, dolor. En mi pecho no siento nada aterrador. Esperanza, esperanza, esperanza. Letras doradas colgando de una pared vecina, donde ni el viento fuerte que azota en las noches hace tintinear su metal.
No hay figura para la soledad ni nombre para el fracaso. No son bestias al asecho porque no existen en realidad. Lágrimas derramadas en vano, en cavilaciones pasadas sin sentido alguno de la misericordia. Espejos de sentimientos frustrados que fueron prisioneros hasta la muerte, encadenados en el foso más oscuro de una mente lúcida y negada al pesimismo.
Las calles vacías no atemorizan a nadie. ¿Cómo puede atemorizar lo que no habla ni camina, lo que no grita ni injuria, lo que no te golpea ni te amenaza? Vive indefenso lo que no manifiesta poder.
La discordia es un enemigo tenaz que insiste hasta que sus fuerzas se agotan, fuerzas infinitas cuyos dominios terminan donde comienzan los del silencio. La paz es regente donde no hay contiendas y disturbios. La tranquilidad es comisario vigilante de los pasos de quien transita por las calles de su pueblo.
Ya basta de pensamientos sordos, de ideas que no se materializan. Algo me impulsa a salir en busca de compañía, pero la riqueza del sosiego me convence de que mi situación es la ideal.
---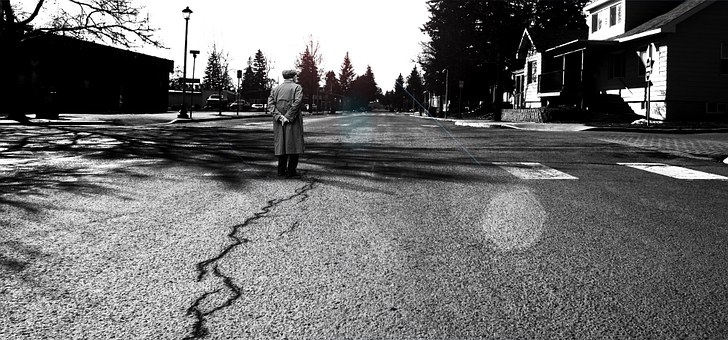 Esta invitación es solo para 100 personas, no pierdas la tuya: https://discord.gg/jCS6kZ4
---
By @latino.romano
The shadows no longer move with the turn of the earth. The Sun passes its arrogant path without paying attention to misery.
They are the calmest days since the applause vanished in time. The exhausted birds decided to rest far away. Their offspring will be for an uncertain future where perhaps the invaders will return to claim the plundering of the people.
Pain, pain, pain. In my chest I feel nothing terrifying. Hope, hope, hope. Golden letters hanging from a neighboring wall, where not even the strong wind that blows at night makes its metal jingle.
There is no figure for solitude and no name for failure. They are not beasts on the prowl because they do not really exist. Tears shed in vain, in past ponderings without any sense of mercy. Mirrors of frustrated feelings that were imprisoned until death, chained in the darkest pit of a lucid mind and denied pessimism.
Empty streets do not frighten anyone. How can you frighten that which does not speak or walk, that which does not shout or insult, that which does not strike you or threaten you? Live helplessly that which does not manifest power.
Discord is a tenacious enemy that insists until its forces are exhausted, infinite forces whose dominions end where those of silence begin. Peace is regent where there are no strife and unrest. Tranquillity is the vigilant commissary of the steps of those who walk through the streets of their people.
Enough of deaf thoughts, of ideas that do not materialize. Something drives me to go out in search of company, but the richness of calm convinces me that my situation is ideal.
---