Por @latino.romano
Desde que supe que habías llegado a la ciudad, no he podido dejar de pensar en ti. Eres contante en mi mente, como el Sol que acompaña las mañanas cada día.
A cada lugar que voy encuentro figuras parecidas a ti. Estás en muchos afiches en las calles y locales. Todos los que te miran tienen algo especial para decir, siempre sus rostros se les iluminan al contemplarte.
Tomé un taxi para llegar al otro lado de la ciudad, y allí estabas en la radio. Alguien tocaba una canción con tu nombre. Parece que estoy obsesionado con tenerte. No sé si esto sea una actitud saludable.
Tu piel color canela, tostada por el calor, me llena de emoción al admirarla. Me encantan sus adornos como pecas que le dan ese toque tan especial. Idealmente firme, pero también suave al tacto, así me imagino que se sentirá tocarla. Confieso que sueño con escucharte crujir un poco al sentir mis manos sobre ti.
Puedo percibir tus exquisitos aromas flotando en el aire, tu perfume es único e inconfundible, una mezcla de finas especias ideadas para atraer y conquistar hasta al más severo de los hombres.
Un rojo encendido puedo ver cuando abres tu boca, una invitación maravillosa a probar de tus encantos y saborear el jugoso néctar que mana de dentro de ti. Seguro que una suave cantidad de picante espera morderme al darte una probada. Un largo suspiro de placer oirán los curiosos que miren nuestro encuentro especial.
Ya deseo tenerte en mis manos, estoy ansioso porque llegues a mi mesa, he recorrido media ciudad para estar contigo. Me agobia el tener que esperar un poco para verte, para degustar la más deliciosa y suculenta hamburguesa…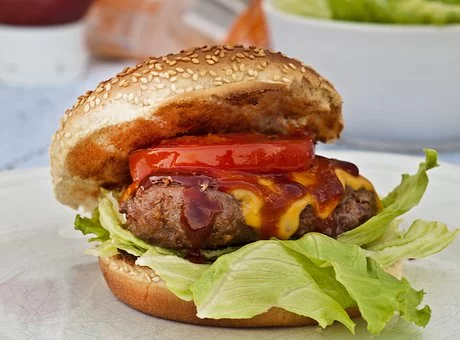 Gheyzer J. Villegas (@latino.romano) es un escritor hispano de relatos y poemas, miembro del mundialmente reconocido grupo The Allince para quien escribe estos textos inéditos…
By @latino.romano
Ever since I heard you came to town, I couldn't stop thinking about you. You are constant in my mind, like the sun that accompanies the mornings every day.
Everywhere I go I find figures like you. You're on many posters in the streets and places. All those who look at you have something special to say, their faces always light up when they see you.
I took a taxi to get to the other side of the city, and there you were on the radio. Someone was playing a song with your name on it. I seem to be obsessed with having you. I don't know if this is a healthy attitude.
Your cinnamon skin, toasted from the heat, fills me with emotion as I admire it. I love your freckle-like decorations that give it that special touch. Ideally firm, but also soft to the touch, so I imagine it will feel like touching you. I confess that I dream of hearing you crunch a little when I feel my hands on you.
I can perceive your exquisite aromas floating in the air, your perfume is unique and unmistakable, a mixture of fine spices designed to attract and conquer even the most severe of men.
A fiery red I can see when you open your mouth, a wonderful invitation to taste of your charms and savor the juicy nectar that flows inside you. I'm sure a gentle amount of spice is waiting to bite me when I give you a taste. A long sigh of pleasure will be heard by the curious looking at our special encounter.
I already wish I had you in my hands, I'm anxious for you to arrive at my table, I've traveled half the city to be with you. I am overwhelmed by having to wait a little to see you, to taste the most delicious and succulent hamburger…