Por @latino.romano
Las ventanillas del auto se llenaron de polvo por el camino reseco. La travesía fue larga y tediosa, un avanzar constante a ninguna parte.
En otros tiempos ganarse la vida era más fácil. Un hombre podía hacer un agotador viaje y finalmente regresar a casa con suficiente dinero, pieles y carne para vivir un mes. Ahora solo se obtiene un puñado de cayos en las manos, algunas monedas y muchas frustraciones para amargar el ánimo.
No tuve tiempo de despedirme antes de partir. La taza de té aún humeaba sobre el mesón de la cocina cuando tuve que tomar mi abrigo y mi sombrero; y marcharme por muchos días.
Mis hijos esperaban que horneara pan esa noche. Mi esposa daba los toques finales a una camisa para dormir. Mis compañeros de juego alistaban sus fichas para una jornada nocturna de cuentos chistosos. Pero todos tuvieron que vivir la decepción obligada, la fría burla de la irónica adversidad.
Usa como disfraz un manto llamado responsabilidad, uno que disculpa cualquier malestar causado por la tristeza.
Historias de búsqueda de riquezas sin final, de logros compartidos por muchos, de bonanza de rostros felices. Una neblina de paz que cubre sutilmente los ojos adormecidos por la desesperación. Ninguno de esos cuentos se cumplió al final de mi viaje.
Neumáticos gastados, un cuerpo con signos evidentes de deterioro y una maleta llena de ropa sucia y maloliente. Los trofeos de una labor bien hecha y de una rutina loable en una sociedad que cambia muy rápido. Ninguno suficiente para garantizar llegar a fin de mes.
Aun así seré recibido con los brazos abiertos por los seres amados. Por los trinos felices de las aves del nido que se alegran con la llegada de la lluvia. Por los conocidos que luchan en la misma batalla diaria y obtienen las mismas cicatrices en la piel se sus espaldas.
El camino seguirá inmutable, reseco y polvoriento. La faena seguirá imponente, exigente e implacable. El retorno seguirá deseado, llorado al recordar lo perdido y resignado al entender que pocas veces se vive de manera de sentirse realmente vivo.
—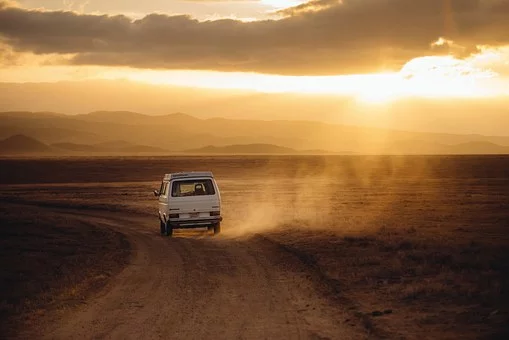 Esta invitación es solo para 100 personas, no pierdas la tuya: https://discord.gg/jCS6kZ4
---
By @latino.romano
The windows of the car filled with dust along the dry road. The journey was long and tedious, a constant advance nowhere.
Once upon a time earning a living was easier. A man could make an exhausting journey and finally return to a house with enough money, furs and meat to live for a month. Now you only get a handful of keys in your hands, a few coins and a lot of frustration to sour the mood. I didn't have time to say goodbye before I left.
The cup of tea still smoked over the kitchen counter when I had to take my coat and hat and leave for many days. My children expected me to bake bread that night. My wife gave the finishing touches to a sleeping shirt. My playmates prepared their chips for a night's day of funny stories. But everyone had to live the forced deception, the cold mockery of ironic adversity. He wears as a disguise a cloak called responsibility, one that excuses any suitcase challenge by sadness.
Stories of searching for endless riches, of achievements shared by many, of bonanza of happy faces. A mist of peace that subtly covers the eyes numbed by despair. None of those stories came true at the end of my journey. Worn tires, a body with obvious signs of displacement and a suitcase full of dirty and smelly clothes. The trophies of a well-made workforce and a praiseworthy routine in a rapidly changing society. Not enough to make ends meet.
Yet I will be greeted with open arms by loved ones. To the happy trills of the birds of the nest that are glad with the arrival of the rain. For the acquaintances who fight in the same daily battle and the same scars on their skin are their backs.
The path considered immutable, dry and dusty. The imposing, demanding and implacable task. The desired return desired, wept at remembering the lost and resigned to understand that seldom live so as to feel really alive.