Por @latino.romano
Mi primer recuerdo fue entre muchos como yo. Todos agrupados dentro de una especie de cesta.
De tanto en tanto podía ver la luz del Sol, y una mano tomaba un puñado de nosotros y los sacaba fuera. Cuando fue mi turno, fui lanzado por el aire y finalmente caí sobre la arena. Era suave y estaba húmeda. Pronto sentí dentro de mí una explosión de fuerza, un germinar de vida.
Al día siguiente, una lluvia suave me mojaba completamente. Dos pequeñas hojas comenzaron a nacerme a cada lado de mi cuerpo. La luz brillante me daba más energía y unas ganas por levantarme me dominaban a cada instante.
Cuando pude mirar a mi alrededor, éramos cientos como yo los que crecíamos en ese campo. Las aves se comían a algunos, pero la mayoría estábamos fuera de peligro.
Mis hojas se hacían más grandes cada día, mi tallo se fortalecía y engrosaba en cada ciclo de día y noche. Algunas hormigas comenzaron a subir sobre mi cuerpo, traían consigo unos pequeños insectos que destilaban un jarabe almibarado.
Entonces el dueño del campo aparecía con una máquina que nos arrojaba un líquido irritante. Mis hermanos y yo logramos sobrevivir, pero las hormigas y sus pequeños insectos no sobrevivían al ataque.
Algún tiempo después comencé a producir flores. Las abejas estaban felices, nos visitaban a diario para recolectar polen. Eso nos ayudó a producir fruto. Ahora era el sembrador quién estaba feliz.
En unos días llegará la cosecha, y muchos hermanos y hermanas pasarán por la misma experiencia. Ha sido fantástico poder saborear la vida…
---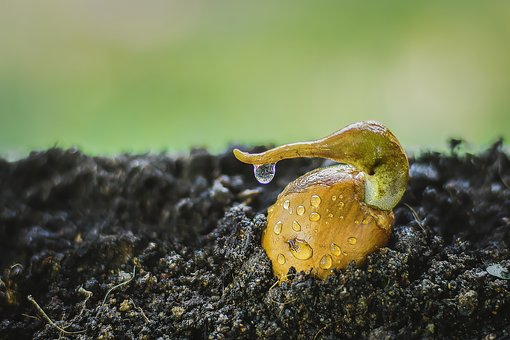 Esta invitación es solo para 100 personas, no pierdas la tuya: https://discord.gg/jCS6kZ4
---
By @latino.romano
My first memory was among many like me. All grouped in a kind of basket.
From time to time I could see the sunlight, and a hand would take a handful of us and pull them out. When it was my turn, I was thrown into the air and finally fell on the sand. It was soft and wet. Soon I felt within me an explosion of strength, a germination of life.
The next day, a gentle rain wet me completely. Two small leaves began to be born on each side of my body. The bright light gave me more energy and a desire to get up dominated me at every moment.
When I could look around me, there were hundreds of us who grew up in that field. Birds ate some, but most of us were out of danger.
My leaves grew bigger every day, my stem grew stronger and thicker in each cycle of day and night. Some ants began to climb on my body, bringing with them small insects that distilled a syrupy syrup.
Then the owner of the field appeared with a machine that threw an irritating liquid at us. My brothers and I managed to survive, but the ants and their small insects did not survive the attack.
Some time later I began to produce flowers. The bees were happy, visiting us daily to collect pollen. That helped us produce fruit. Now it was the sower who was happy.
In a few days the harvest will come, and many brothers and sisters will go through the same experience. It has been fantastic to be able to taste life…
---