Por @latino.romano
Abrí mis ojos y la noche no había terminado. La oscuridad arropaba todo a mi alrededor como una gran manta pesada y gruesa.
Un fino polvo de estrellas flotaba en el aire y destellos fugaces de ideas felices me picaban el rostro a su paso. ¿Cómo nadar entre tantas sombras?
Procuré concentrarme en lo más básico, en lo más pertinente de mis sentimientos. Me aislé de todo pensamiento pasado y futuro, y me encontré vacío y solo como una roca en el gigantesco espacio.
Pronto fui visitado por mis temores, trataban de convencerme de que ese era el lugar para mí. Mi prisión en medio de soledad y penumbras. Fui encerrado sin ser culpable, pero una forma de esperanza nadaba a mi lado intentando romper las ataduras que no dejaban moverme.
El frio se colaba por mis pies, y no tenía más remedio que colocarme en cuclillas para mitigarlo.
Para mí era muy extraño el aire que respiraba, así que empecé a contener el aliento. Increíblemente no me asfixiaba en lo absoluto. Era como el pez a mi lado, el pez esperanza, que nadaba fuera de mi elemento. Que flotaba encerrado en una bolsa en aguas oscuras de desesperación.
Estoy cansado de tantas pruebas, de los destellos de estrellas que encandilan mis ojos, que me hacen suspirar. Cansado del patrón de tragedias y problemas que meten frio a mis pies.
Pronto se romperá la burbuja, mi pez está rompiendo la bolsa que nos oprime. Seré libre de pensar en lo que quiera sin que esto me cause dolor. Dejaré de estar en las profundidades y subiré a la superficie.
---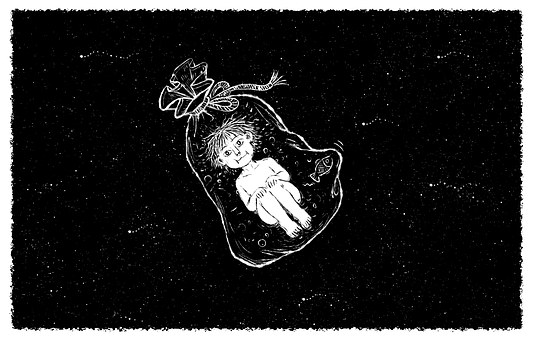 Esta invitación es solo para 100 personas, no pierdas la tuya: https://discord.gg/jCS6kZ4
---
By @latino.romano
I opened my eyes and the night wasn't over. The darkness wrapped everything around me like a big heavy and thick blanket.
A fine dust of stars floated in the air and fleeting flashes of happy ideas stung my face in their path. How can I swim in so many shadows?
I tried to concentrate on the most basic, the most pertinent of my feelings. I isolated myself from all past and future thoughts, and found myself empty and alone like a rock in the gigantic space.
Soon I was visited by my fears, trying to convince me that this was the place for me. My prison in the midst of loneliness and gloom. I was locked up without being guilty, but a form of hope swam by my side trying to break the ties that kept me from moving.
The cold slipped through my feet, and I had no choice but to squat to mitigate it.
The air I breathed was very strange to me, so I began to hold my breath. Incredibly, I didn't suffocate at all. It was like the fish next to me, the hope fish, swimming outside my element. I was floating in a bag in dark waters of despair.
I am tired of so many trials, of the star glimpses that dazzle my eyes, that make me sigh. Tired of the pattern of tragedies and problems that make my feet cold.
Soon the bubble will break, my fish is breaking the bag that oppresses us. I will be free to think of whatever I want without it causing me pain. I will stop being in the depths and rise to the surface.
---