Por @latino.romano
Su mirada perdida la sumía en la más profunda quietud. Sus ojos azules parecían estancados en un pensamiento eterno.
Pocos niños se acercaban para hablar con ella en la escuela. Sus maestras preocupadas intentaban hacerla congeniar con sus amiguitos. Pero bastaban algunos momentos para que estos se cansaran de intentarlo.
No tenía traumas, su vida en casa era feliz. Sus padres la amaban, le daban de todo y procuraban dedicarle tiempo suficiente. Su gran amor, solo era superado por su temor de que su hija fuera diferente.
Ciertamente lo era, pues para ella la vida era todo un recreo. Expresarse no era la mejor de sus virtudes.
Cuando miraba por su ventana, solía ver a los pájaros volar, y mientras que otros disfrutaban de los colores o su trino, ella pensaba profundamente en cómo hacían para estar en el aire. Calculaba todo, y miles de números flotaban en su mente. Sus ojos azules miraban fórmulas matemáticas por doquier. Era todo un genio para inquirir sobre el porqué de las cosas. Una niña no comprendida que miraba el mundo de forma elemental.
Con el pasar del tiempo, y los muchos consejeros, fue perdiendo su enfoque. Los juguetes y la televisión comenzaron a ser más reales para ella. Los cálculos se perdieron en el mar de pensamientos olvidados. De conversar muy poco, paso a ser una entusiasta cantante. Su madre estaba feliz de verla normal.
Quizá la felicidad al fin toco a su puerta, quizá fue mejor así para su futuro. Nunca lo sabrán, pues no hubo oportunidad. Un brillante no puede destallar en la oscuridad, y aún si lo hiciera, los ciegos no lo podrían ver… ¿O si?…
---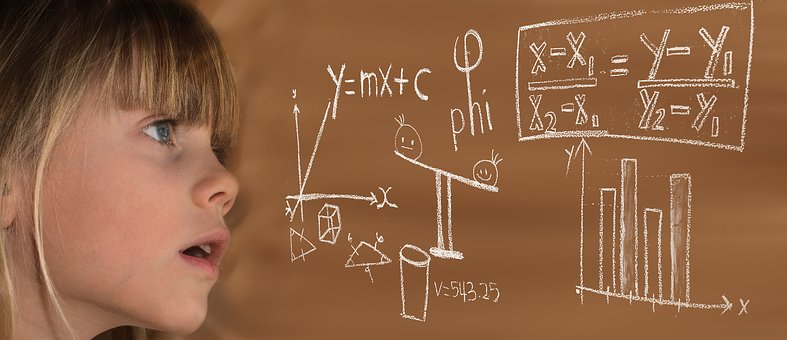 Esta invitación es solo para 100 personas, no pierdas la tuya: https://discord.gg/jCS6kZ4
---
By @latino.romano
Her lost gaze plunged her into the deepest stillness. Her blue eyes seemed stuck in an eternal thought.
Few children came to talk to her at school. Her troubled teachers tried to make her get along with her little friends. But a few moments were enough for them to get tired of trying.
She did not have traumas, her life at home was happy. Her parents loved her, gave her everything and tried to give her enough time. Her great love was only overcome by her fear that her daughter would be different.
Certainly it was, because for her life was all a recreation. Expressing herself was not the best of her virtues.
When she looked out of her window, she used to see the birds fly, and while others enjoyed the colors or their trill, she thought deeply about how they did to be in the air. She calculated everything, and thousands of numbers floated in her mind. Her blue eyes looked at mathematical formulas everywhere. He was quite a genius to inquire into the why of things. A little girl not understood that looked at the world in an elemental way.
With the passing of time, and the many advisors, she lost her focus. Toys and television became more real to her. The calculations were lost in the sea of forgotten thoughts. From talking very little, I become an enthusiastic singer. Her mother was happy to see her normal.
Maybe happiness finally knocked on her door, maybe it was better for her future. They will never know, for there was no chance. A brilliant can't shine in the dark, and even if it did, the blind couldn't see it… or could they?
---