Por @latino.romano
El temor se apoderó de la población. Al principio nadie era consciente del peligro, pero luego de las primeras víctimas, todos enloquecieron.
Señales amarillas y rojas indicaban por donde caminar a los habitantes. Sirenas instaladas en cada cruce de calle tocaban estruendosos sonidos a intervalos fijos, era la manera de indicar cuando tomar los medicamentos asignados.
El sistema se hizo opresivo para la gente, pronto dejaron de sentirse seguros y pasaron a sentirse controlados. La desconfianza se convirtió en la norma de cortesía más expresada.
Los que aún no tenían síntomas de la enfermedad buscaban maneras de escapar de la cuarentena, de escapar de la opresión y de los controles médicos. Las alternativas para salir de las fronteras no eran nada gentiles, mucho menos baratas. Oficiales corruptos y médicos avariciosos encontraron una oportunidad de negocios en las almas que procuraban una vida mejor.
La vacuna tardaba en producirse en masa. Los costos humanos para fomentar su fabricación eran enormes. Una peculiar raíz encontrada en el campo parecía ofrecer una solución. Su toxicidad, sin embargo, era un problema que la población común no podía enfrentar.
El tren era la única vía menos peligrosa para entrar o salir. Todo llegaba por tren: las medicinas, la comida, los especialistas. Todo salía por esa misma ruta: los cadáveres, los millonarios, los prófugos del sistema, la enfermedad en sí misma.
Los días transcurrirán bajo la sombra del temor. Cuando la amenaza sea superada, quizá no queden muchos para celebrar la victoria.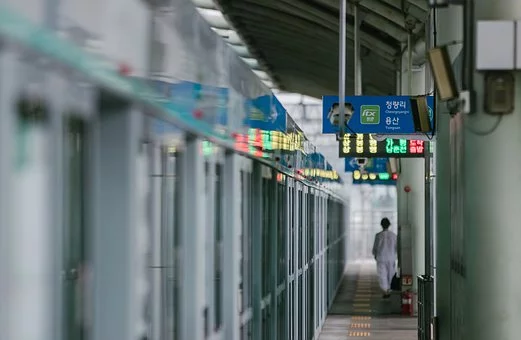 Gheyzer J. Villegas (@latino.romano) es un escritor hispano de relatos y poemas, miembro del mundialmente reconocido grupo The Allince para quien escribe estos textos inéditos…
By @latino.romano
Fear took hold of the population. At first no one was aware of the danger, but after the first victims, everyone went crazy.
Yellow and red signs indicated where to walk to the inhabitants. Sirens installed at every crossroads played loud sounds at fixed intervals, it was the way to indicate when to take the assigned medicines.
The system became oppressive for the people, they soon stopped feeling safe and started feeling controlled. Mistrust became the most expressed norm of courtesy.
Those who did not yet have symptoms of the disease looked for ways to escape quarantine, escape oppression and medical controls. The alternatives to get out of the borders were not at all gentle, much less cheap. Corrupt officials and greedy doctors found a business opportunity in souls who were seeking a better life.
The vaccine took time to be mass-produced. The human costs of encouraging its manufacture were enormous. A peculiar root found in the field seemed to offer a solution. Its toxicity, however, was a problem that the common population could not face.
The train was the only less dangerous way in or out. Everything came by train: the medicines, the food, the specialists. Everything came out that way: the corpses, the millionaires, the fugitives from the system, the disease itself.
The days would pass under the shadow of fear. When the threat is overcome, there may not be many left to celebrate the victory.