Por @latino.romano
La serpiente miraba con intensiones asesinas en sus ojos. Su lengua saboreaba el aire como ondeando una bandera de muerte.
Una presa fácil por su diminuto tamaño, un bocado rápido para amenizar el día; así pensaba con su astucia al encontrar en su camino a la pequeña rana. Otras bestias más grandes le habían presentado poca resistencia ante sus filosos colmillos, un anfibio como este sería como aplastar una hoja seca.
La rana percibió la presencia de la serpiente sin inmutarse. No hizo el menor esfuerzo por apartarse de su camino.
Algo en su piel naranja brillante gritaba advertencias a toda la selva, pero el reptil no parecía estar enterado de la noticia.
Se abalanzó ferozmente para morderla, y un viscoso néctar amargo le llenó de espuma la boca. Sus ojos se nublaron enseguida y su lengua se adormeció totalmente, apenas podía respirar y arrastrarse hacia la hojarasca.
Una lección que jamás olvidaría por su atrevimiento y arrogancia. Creerse superior a otro de los habitantes de la selva, no imaginar que hasta el más pequeño de los seres, que tienen su hogar allí, son capaces de defenderse temiblemente.
La rana se detuvo orgullosa sobre la raíz de un árbol, para observar la desdichada huida de la serpiente. Sin entender como no había comprendido el mensaje de su llamativo color. Toda una guerrera ponzoñosa que no hace alarde, solo advierte de la desventura que acarrea el intentar prenderle como presa.
No siempre el más pequeño es el más débil, ni el más grande tiene siempre la ventaja.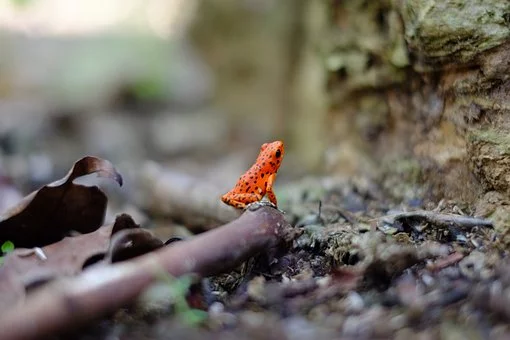 Gheyzer J. Villegas (@latino.romano) es un escritor hispano de relatos y poemas, miembro del mundialmente reconocido grupo The Allince para quien escribe estos textos inéditos…
By @latino.romano
The snake was looking with murderous intent in its eyes. Its tongue savored the air as if waving a flag of death.
An easy prey because of its tiny size, a quick bite to brighten up the day; so he thought with his cunning as he found the little frog in his path. Other larger beasts had put up little resistance to its sharp fangs, and an amphibian like this would be like crushing a dry leaf.
The frog sensed the snake's presence without flinching. It made no effort to get out of its way.
Something in its bright orange skin shouted warnings to the whole forest, but the reptile did not seem to be aware of the news.
It lunged fiercely to bite it, and a slimy bitter nectar frothy at its mouth. His eyes soon blurred and his tongue went completely numb, he could hardly breathe and crawl into the leaf litter.
A lesson he would never forget for his boldness and arrogance. To believe oneself superior to another of the inhabitants of the forest, not to imagine that even the smallest of beings, who have their home there, are capable of defending themselves fearfully.
The frog stood proudly on the root of a tree, to observe the wretched flight of the snake. Not understanding how it had not understood the message of its striking color. A poisonous warrior who does not brag, only warns of the misfortune of trying to catch it as prey.
The smallest is not always the weakest, nor does the biggest always have the advantage.