Por @latino.romano
Temores retumbaban en su mente al pensar en las vicisitudes venideras. Miedos que cobran vida y estremecen las ideas evocando sentimientos desalentadores.
Parece inmenso el enemigo, la misión es una muralla bien protegida por cañones que escupen fuego y dardos envenenados. Ondean banderas de señales para las tropas… ¡miles de ellas! El cielo se cubre de un triste gris por la cortina de flechas puntiagudas que se abalanzan; para regar los huesos secos de los débiles.
Rugen las fieras desde su escondite con rigor y violencia. Claman arrogantes y con terror a los que aspiran derribarlos.
En su pecho una coraza llamada ilusión lo motiva a buscar la justicia. Su semblante no se desdibuja ante las llamas que fulguran a lo lejos. Los improperios no se clavan profundamente en sus huesos, solo rasguños laceran su carne y pequeñas gotas de sangre se niegan a salir ante el atropello.
Una canción alentadora es traída con el viento, gotas de rocío refrescan los rostros agotados y lavan las marcas de lodo de la batalla anterior.
La marcha se hace constante y los pasos golpean la tierra con más poder. No se atreve a retroceder, empuña con más fuerza su espada y levanta en alto su escudo para arremeter ante las pruebas.
Discernimiento y sabiduría le sirven de trenzas a sus botas y cinto a su armadura. Adelante están los problemas esperándole furiosos, profetas que predicen lo que les espera.
La lucha comenzó con desventaja traidora, golpes bajos y deshonor fueron las armas de la adversidad. Pero la templanza del guerrero superó las expectativas de los héroes, una gran Roca fue su fortaleza en los momentos de mayor temor. Finalmente, radiante posa su mirada de espaldas al ocaso, aguardando el nacimiento de la esperanza desde el este.
Así transcurren los ciclos en aquel reino en decadencia, donde supuestos señores del bien y el mal esgrimen sus argumentos para controlar a los inocentes. Con éxito sobre los débiles, pero totalmente derrotados frente a los que no se convencen de la grandeza de lo indigno.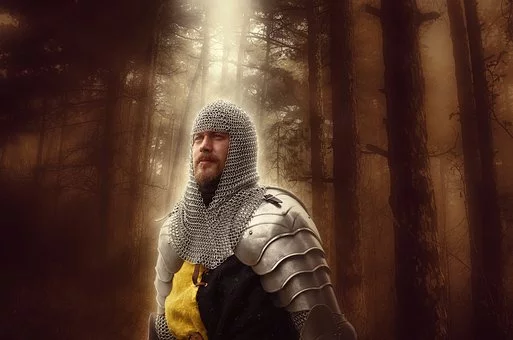 Gheyzer J. Villegas (@latino.romano) es un escritor hispano de relatos y poemas, miembro del mundialmente reconocido grupo The Allince para quien escribe estos textos inéditos…
By @ latino.romano
Fears rumbled in his mind as he thought of the vicissitudes to come. Fears that come to life and shake ideas, evoking discouraging feelings.
The enemy seems immense, the mission is a wall well protected by cannons spitting fire and poisoned darts. They wave signal flags for the troops… thousands of them! The sky is covered with a sad grey by the curtain of pointed arrows that are hurled; to water the dry bones of the weak.
The beasts roar from their hiding place with rigor and violence. They cry out arrogantly and with terror to those who aspire to bring them down.
In his chest a shield called illusion motivates him to seek justice. His countenance does not blur in the face of the flames that glow in the distance. The insults do not sink deep into his bones, only scratches lacerate his flesh and small drops of blood refuse to come out before the outrage.
A cheering song is brought with the wind, dewdrops refresh exhausted faces and wash away the muddy marks of the previous battle.
The march becomes constant and the footsteps strike the earth with more power. He dares not retreat, pushes his sword harder and lifts his shield high to charge at the trials.
Discernment and wisdom serve as braids for his boots and a belt for his armour. Ahead lies trouble waiting in anger, prophets who predict what lies ahead.
The struggle began with treacherous disadvantage, low blows and dishonor were the weapons of adversity. But the warrior's temperance exceeded the expectations of the heroes, a great Rock was his strength in the moments of greatest fear. Finally, radiant he looks back on the sunset, waiting for the birth of hope from the east.
Thus the cycles pass in that decaying kingdom, where supposed lords of good and evil wield their arguments to control the innocent. With success over the weak, but totally defeated against those who are not convinced of the greatness of the unworthy.