Por @latino.romano
Jugadas peligrosas y maniobras de riesgo, así danza el pececillo entra los brazos ponzoñozos.
Alegres colores, naranja y blanco, ojos encantadores que no miran el mal. Seguro se encuentra entre las caricias de centinelas que cosquillas le obsequian y protección le delegan. Pasan las corrientes y el pez no se mueve, cruzan otros seres con pasivo temor. Los saluda y les baila para contentarlos, si se acercan a él sentirán dolor.
Actúa el payaso en su bello escenario, hace su truco sin globos ni cornetas. Una danza coqueta que emociona y se admira, entre la anémona respira y canta su canción.
Vida curiosa para un pequeño pececillo. Creación ingeniosa, no es casualidad, de utilidad caprichosa es el veneno de la anémona; con su caballero es princesa en el mar.
Mira el naranja con sus líneas blancas, mira su baile sin aplaudir. Corre el payaso a esconderse en su refugio, los suaves tentáculos no lo dejarán ir, con un fiero enemigo que lo haga sufrir. Si lo tocan, se llevarán una sorpresa, caricia y ponzoña lograrán sentir.
Descargo de responsabilidad: Las opiniones que se traslucen en este texto obedecen a la óptica personal del autor quien, como toda persona, tiene derecho a expresarlas respetuosamente.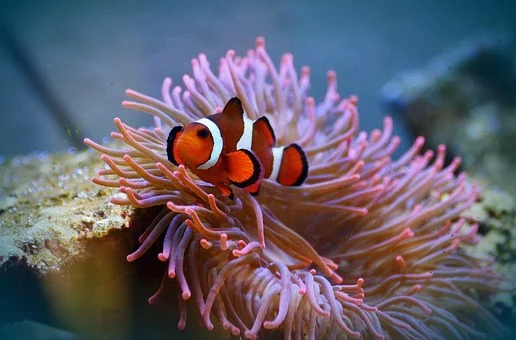 Gheyzer J. Villegas (@latino.romano) es un escritor hispano de relatos y poemas, miembro del mundialmente reconocido grupo The Alliance para quien escribe estos textos inéditos…
English version
By @latino.romano
Dangerous moves and risky manoeuvres, that's how the little fish dances between the poisonous arms.
Happy colors, orange and white, charming eyes that do not look at evil. He is sure to be among the caresses of sentries that tickle him and protect him. The currents pass and the fish does not move, other beings cross with passive fear. He greets them and dances to please them, if they approach him they will feel pain.
The clown performs on his beautiful stage, he does his trick without balloons or bugles. A flirtatious dance that moves and is admired, among the anemone he breathes and sings his song.
A curious life for a little fish. Ingenious creation, it is not by chance, of capricious utility is the poison of the anemone; with its knight it is a princess in the sea.
Look at the orange with its white lines, look at its dance without applauding. The clown runs to hide in his refuge, the soft tentacles will not let him go, with a fierce enemy that makes him suffer. If they touch him, they will get a surprise, caress and poison will make them feel.
Disclaimer: The views expressed in this text are those of the author, who, like everyone else, is entitled to express them respectfully.
Versão em português
Por @latino.romano
Movimentos perigosos e manobras arriscadas, é assim que os peixinhos dançam entre os braços venenosos.
Cores alegres, laranja e branco, olhos encantadores que não olham para o mal. Ele está certamente entre as carícias dos sentinelas que o fazem cócegas e o protegem. As correntes passam e os peixes não se movem, outros seres cruzam-se com medo passivo. Ele cumprimenta-os e dança para lhes agradar, se se aproximarem dele sentirão dor.
O palhaço actua no seu belo palco, ele faz o seu truque sem balões ou cornetas. Uma dança flertadora que se move e é admirada, entre a anémona que ele respira e canta a sua canção.
Uma vida curiosa para um peixinho. A criação engenhosa, não é por acaso, de utilidade caprichosa é o veneno da anémona; com o seu cavaleiro é uma princesa no mar.
Olhe para a laranja com as suas linhas brancas, olhe para a sua dança sem aplaudir. O palhaço corre para se esconder no seu refúgio, os tentáculos macios não o deixam ir, com um inimigo feroz que o faz sofrer. Se lhe tocarem, vão ter uma surpresa, carinho e veneno que os fará sentir.
Aviso: Os pontos de vista expressos neste texto são os do autor, que, como todos os outros, tem o direito de expressá-los respeitosamente.