Por @latino.romano
Entró al café con la intención de comer algo antes de su viaje. La lista de precios le pareció absurda, pintada con tiza de colores en una pizarra, exhibiendo precios astronómicos bajo la excusa de ser un lugar muy famoso.
Una camarera se le acercó para tomar su orden, le llamó la atención la gran sonrisa fingida acompañada de una falsa cortesía memorizada.
—¡Café negro, amargo! Gracias —atinó a decirle devolviéndole la sonrisa.
Desenrolló el diario que había comprado en el quiosco de la esquina y continuó leyendo la noticia sobre la chica desaparecida. Había algo en ella que le inquietaba, estaba seguro de conocerla de algún sitio.
El reportero no escribió nada nuevo, nada que no estuviera reseñado en otros medios: las extrañas circunstancias de la desaparición, los nombres de posibles sospechosos, la recompensa ofrecida por los padres. Buscaba algún dato adicional que le permitiera entender por qué le parecía conocida esta mujer.
La camarera le trajo el café amargo, y alcanzó a mirar un tatuaje en forma de flor en su muñeca. Un conocido emblema de un grupo musical juvenil. Lo curioso es que este grupo se había extinguido hacía décadas, y la camarera apenas tendría unos veinte años.
—Disculpa, ¿Conocías a Marie la chica desaparecida? —preguntó improvisadamente, como "intentando pescar en río revuelto", una frase que aplica cuando se intenta algo para ver que se consigue aunque no se tenga un propósito definido.
El rostro confundido de la camarera le indicaba que su pregunta estuvo fuera de lugar.
La muchacha titubeó para responder, miró a los lados, sacó su libreta de apuntes algo nerviosa, y fingiendo que tomaba otra orden respondió en voz baja:
—¿Cómo sabe que la conocía?
Se quedó estupefacto al escucharla. Al fin tenía una pista que seguir.
---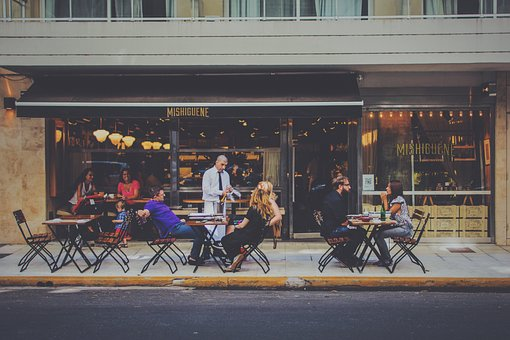 Esta historia continuará en el blog personal de @latino.romano
Esta invitación es solo para 100 personas, no pierdas la tuya: https://discord.gg/jCS6kZ4
---
By @latino.romano
He entered the café with the intention of eating something before his trip. The price list seemed absurd, painted with colored chalk on a blackboard, exhibiting astronomical prices under the excuse of being a very famous place.
A waitress approached him to take his order, his attention was caught by the big fake smile accompanied by a false memorized courtesy.
-Black coffee, bitter! Thank you," he said, smiling back.
He unrolled the newspaper he had bought at the corner kiosk and continued reading the news about the missing girl. There was something about her that troubled him, he was sure he knew her from somewhere.
The reporter wrote nothing new, nothing that wasn't reported in other media: the strange circumstances of the disappearance, the names of possible suspects, the reward offered by the parents. He was looking for some additional information that would allow him to understand why he thought this woman was known to him.
The waitress brought her the bitter coffee, and managed to look at a flower-shaped tattoo on her wrist. A well-known emblem of a youth musical group. The curious thing is that this group had been extinct for decades, and the waitress was barely twenty years old.
-Excuse me, did you know Marie the missing girl? -she asked improvisedly, like "trying to fish in a scrambled river", a phrase that applies when you try something to see that you get it even if you don't have a definite purpose.
The confused face of the waitress indicated that her question was out of place.
The girl hesitated to answer, looked to the sides, pulled out her somewhat nervous notebook, and pretending to take another order answered in a low voice:
-How do you know I knew her?
He was astonished to hear it. At last he had a clue to follow.
---