Por @latino.romano
Debatían profusamente sobre el significado de aquel evento que les tenía confundidos.
Una emoción enorme embargaba sus corazones y les hacía pensar en las más deslumbrantes ideas. Para ellos era todo un misterio como aquel gigantesco objeto desaparecía delante de la gran luz, y aparecía de nuevo cuando la bola de fuego se desvanecía detrás de las montañas.
—¡Quizá se trate de un fruto jugoso que no hemos probado aún! —exclamó el más viejo de ellos.
—Pero si es un fruto, ¿cómo haremos para tomarlo? Yo no veo el árbol al cual pertenece —indicó otro de los pensadores.
—Podría tratarse de una criatura de la noche. Miren que su cara se parece a la de una lechuza —dijo el más joven con entusiasmo.
—¡Imposible! —replicó el primero— tendría que haber ratones inmensos o insectos gigantes que le sirvieran de alimento. En ese caso, nos comería a nosotros de seguro.
Todos se volvieron para ver con más detenimiento el curioso objeto celestial. Sabían que no era algo a lo que temerle, pero les intrigaba la naturaleza del mismo. Ya habían debatido antes sobre muchas cosas relativas a la vida de su tribu, pero este elemento en particular les presentaba una dificultad pocas veces vivida por ninguno de ellos.
Plenamente acostumbrados a los tonos grises y opacos de su hogar en la luna, les asombraba el manto azul y la capa color marrón con la que al parecer se fundía en la superficie de aquella esfera.
Pronto coincidieron en la posibilidad de que aquel objeto fuera otro mundo como el de ellos; o al menos parecido. Se imaginaron cómo sería la vida allí, si acaso existía alguna.
Esto generó otro debate interesante entre los pensadores, quienes con mucho deseo abordaron el tema para darle solución. Así transcurrieron cientos de días, cavilando sobre el profundo significado de lo que observaban en el cielo, sin llegar nunca a una solución que pudiera satisfacerlos a todos.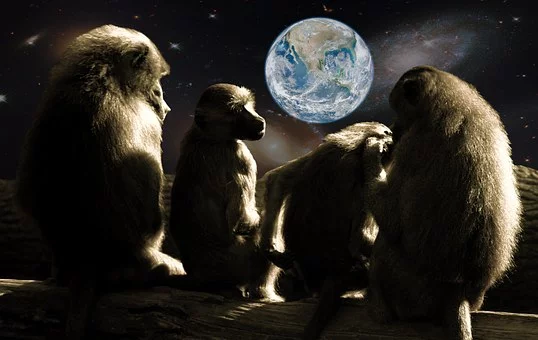 Esta invitación es solo para 100 personas, no pierdas la tuya: https://discord.gg/jCS6kZ4
By @latino.romano
They debated profusely about the meaning of that event that had them confused.
An enormous emotion seized their hearts and made them think of the most dazzling ideas. To them it was a mystery how that gigantic object disappeared in front of the great light, and appeared again when the ball of fire vanished behind the mountains.
-Maybe it's a juicy fruit we haven't tasted yet! -exclaimed the oldest of them.
-But if it's a fruit, how can we take it? I don't see the tree to which it belongs," said another of the thinkers.
-It could be a creature of the night. His face looks like an owl's," said the youngest enthusiastically.
-Impossible! -There would have to be huge mice or giant insects to feed him. In that case, it would eat us for sure.
They all turned to look more closely at the curious celestial object. They knew it was nothing to be afraid of, but they were intrigued by the nature of it. They had debated many things concerning the life of their tribe before, but this particular element presented them with a difficulty seldom experienced by any of them.
Fully accustomed to the gray and opaque tones of their home on the moon, they were astonished by the blue mantle and the brown-colored mantle with which it seemed to melt on the surface of that sphere.
Soon they agreed that such an object might be another world like theirs, or at least similar. They imagined what life would be like there, if any.
This generated another interesting debate among the thinkers, who very willingly approached the subject in order to solve it. Hundreds of days went by, pondering over the profound meaning of what they observed in the sky, without ever reaching a solution that could satisfy them all.