Por @latino.romano
Cuenta una leyenda que en un lugar apartado de Asia, entre las montañas que ven el nacimiento del viento, había un bosque frondoso poco conocido que era atendido por un hombre.
Por alguna razón se había dedicado a convertir ese bosque en un jardín hermoso. Dormía en una pequeña cabaña hecha de paja y se alimentaba de los árboles frutales y vegetales que él mismo cultivaba.
Cierto día, mientras caminaba por uno de los senderos, se topó con algo que le pareció muy curioso y extraño. Se trataba de tres ovejas que pastaban cerca de unos arbustos, devorando los brotes verdes con entusiasmo.
—¿De dónde ha salido este rebaño? —se preguntó el hombre a sí mismo.
Miró a su alrededor buscando al pastor de las ovejas, pero pronto entendió que era casi imposible que alguien, a parte de él, deambulara por aquel bosque tan apartado.
Se acercó lentamente a los animales, y notó que estos estaban mordiendo las plantas que con tanto esfuerzo él había sembrado. Pronto se enfureció por el atropello y procuró espantar del lugar a las tres ovejas.
Al verlo, las ovejas no se asustaron. En su lugar se acercaron corriendo hacia el hombre como si lo conocieran de toda la vida. Extrañado, el jardinero del bosque quiso alejarlas pero sin éxito alguno.
—¡Largo de aquí! Están destrozando mi jardín —les gritó enfadado.
Las ovejas ahora se frotaban de sus ropas como lo hace un gatito con su dueño. El hombre no entendía ese comportamiento, así que corrió para alejarse de ellas. Mientras lo hacía les gritaba para que lo dejaran en paz.
Las ovejas, sin embargo, continuaban en su empeño de acercarse al hombre como si este fuera su pastor. El hombre comenzó a creer que estaba viendo una visión y que, en realidad, estaba volviéndose loco.
Como las ovejas no dejaban de seguirlo, decidió ignorarlas. Pensaba que si se trataba de una alucinación, esta pronto pasaría y todo volvería a la normalidad. Pero transcurrían los días y las ovejas seguían sin desaparecer. Así que el jardinero comenzó a entender que no podría deshacerse de ellas tan solo ignorándolas.
Continuará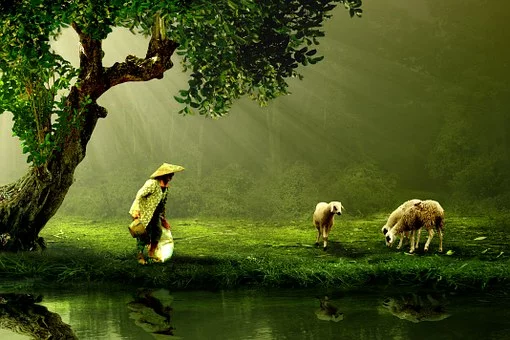 Gheyzer J. Villegas (@latino.romano) es un escritor hispano de relatos y poemas, miembro del mundialmente reconocido grupo The Allince para quien escribe estos textos inéditos…
By @latino.romano
Legend has it that in a remote part of Asia, among the mountains that see the birth of the wind, there was a little-known lush forest that was cared for by a man.
For some reason he had dedicated himself to turning that forest into a beautiful garden. He slept in a small hut made of straw and fed on the fruit trees and vegetables that he grew himself.
One day, while walking along one of the paths, he came across something that seemed very curious and strange to him. It was three sheep grazing near some bushes, devouring the green shoots with enthusiasm.
-Where did this flock come from? -asked the man to himself.
He looked around for the shepherd of the sheep, but soon understood that it was almost impossible for anyone but him to wander in that remote forest.
He approached the animals slowly, and noticed that they were biting into the plants he had sown with so much effort. Soon he was enraged by the running over and tried to drive the three sheep away.
When he saw this, the sheep were not afraid. Instead they rushed towards the man as if they had known him all their lives. Strangely, the gardener in the woods tried to drive them away, but without success.
-Get out of here! You are destroying my garden," he shouted angrily.
The sheep were now rubbing their clothes as a kitten does its owner. The man did not understand this behaviour, so he ran away from them. As he did so, he shouted at them to leave him alone.
The sheep, however, continued to approach the man as if he were their shepherd. The man began to believe that he was seeing a vision and that he was actually going crazy.
As the sheep kept following him, he decided to ignore them. He thought that if it was a hallucination, it would soon pass and everything would return to normal. But the days passed and the sheep still didn't disappear. So the gardener began to understand that he could not get rid of them just by ignoring them.
To be continued