Por @latino.romano
Pensó que sería mejor entablar conversación con ellas, si las ovejas le hablaban, entonces significaría que si estaba perdiendo la cordura.
Si las ovejas no le hablaban, entonces solo eran simples bestias y se las comería.
Se acercó a los animales y les preguntó: —¿Cómo sabe mejor su carne, asada al carbón o guisada con vegetales frescos?.
Las ovejas no decían nada, solo seguían su rutina de morder pasto y balar. El hombre hizo un segundo intento y les ordenó: —¡Fórmense una detrás de otra y cántenme una canción para dormir!
Las ovejas ni siquiera le prestaban atención, solo se quedaban allí paradas cerca de él.
El hombre sacó un cuchillo y se preparó para degollarlas, estaba convencido de que eran animales comunes y de que serían una buena cena para la noche, cuando una de las ovejas le dijo:
—¿Por qué quieres comernos? ¿No tienes suficiente alimento en tu propio jardín cultivado?
El hombre dio un gran salto de sorpresa y muy asustado se alejó unos metros. No entendía cómo era posible que ese animal le hablara. Después de todo parece que sí estaba volviéndose loco.
—Si preguntas algo inteligente, entonces podremos hablar contigo, pero si lo que dices son puras tonterías, entonces preferimos seguir con nuestra propia vida tranquila —dijo la oveja al hombre.
—No tienes que hacernos daño, solo buscamos la paz y la tranquilidad de este bosque apartado, pero como somos animales indefensos tenemos que permanecer cerca de ti para que nos cuides —agrego otra de las ovejas.
—Haremos un trato simple contigo, si nos cuidas bien y no le dices a nadie que podemos hablar con los humanos, entonces te proporcionaremos lana y leche todo los años. De lo contrario nos iremos por donde hemos venido —dijo finalmente la última oveja.
El jardinero se quedó asombrado sin saber qué responder, guardó su cuchillo y se sentó en el suelo sobre las hojas caídas de los árboles. Pronto cayó la noche, y se llevó a los animales a su casa, les preparó un pequeño establo y los cuidó con entusiasmo.
Cuentan que ese hombre todavía vive en el bosque entre las montañas, que es muy mayor y aún habla con su rebaño. Algunos aseguran que si existe un lugar donde abunde la tranquilidad y la paz, los hombres que prestan verdadera atención podrán escuchar la voz de la sabiduría en la creación. Que ese es la enseñanza que intenta transmitir esa antigua leyenda.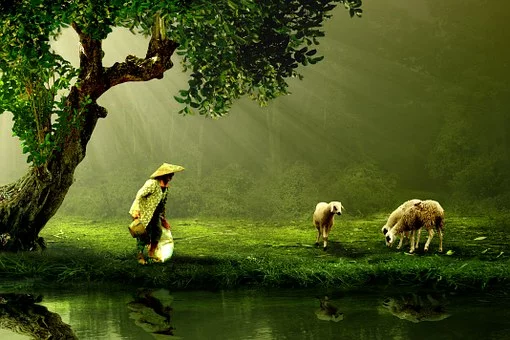 Gheyzer J. Villegas (@latino.romano) es un escritor hispano de relatos y poemas, miembro del mundialmente reconocido grupo The Allince para quien escribe estos textos inéditos…
By @latino.romano
He thought it would be better to engage them in conversation, if the sheep were talking to him, then it would mean that if he was losing his mind.
If the sheep didn't talk to him, then they were just simple beasts and he would eat them.
He approached the animals and asked, "How does their meat taste better, roasted on charcoal or cooked with fresh vegetables?
The sheep didn't say anything, they just followed their routine of biting the grass and bleating. The man made a second attempt and ordered them: -Form one after the other and sing me a song to sleep!
The sheep did not even pay attention to him, they just stood there close to him.
The man took out a knife and prepared to slit their throats. He was convinced that they were ordinary animals and would make a good evening meal, when one of the sheep said to him:
-Why do you want to eat us? -Don't you have enough food in your own cultivated garden?
The man took a great leap of surprise and, very frightened, walked away a few feet. He did not understand how that animal could talk to him. After all, it looks like he was going crazy.
-If you ask something clever, then we can talk to you, but if what you say is pure nonsense, then we prefer to go on with our own quiet life,' said the sheep to the man.
-You don't have to hurt us, we only seek the peace and quiet of this secluded forest, but since we are helpless animals, we have to stay close to you so that you can take care of us," added another of the sheep.
-We will make a simple deal with you, if you take good care of us and don't tell anyone that we can talk to humans, then we will provide you with wool and milk every year. Otherwise we will go back the way we came,' said the last sheep at last.
The gardener was astonished and did not know what to say, so he put away his knife and sat down on the ground on the fallen leaves of the trees. Soon night fell, and he took the animals to his house, prepared a small stable for them, and looked after them enthusiastically.
They say that this man still lives in the forest between the mountains, that he is very old and still talks to his herd. Some say that if there is a place where tranquility and peace abound, people who pay true attention will be able to hear the voice of wisdom in creation. That is the teaching that this ancient legend attempts to convey.