Por @latino.romano
La vida en la pradera era una dulzura, todos los animales del campo eran muy felices con las cosas que recibían y encontraban en la naturaleza.
Sin embargo, en el establo había una vaca que tenía un pensar diferente del resto. Le agradaban los cuidados que recibía por parte de sus cuidadores, el alimento era delicioso para ella, pero se quejaba de que el agua que bebía del estanque era de un sabor extraño.
—¡Sabe sin sabor! —decía molesta.
Sus compañeras no entendían la queja, a ellas les parecía que el agua estaba bien, pero veían como su amiga se negaba a tomar del estanque por su malestar.
Ocurría que la vaca quejumbrosa nunca había tomado agua de ningún otro lugar salvo el estanque, y quería probar agua de otras fuentes, esperando a que esta tuviera un sabor diferente.
Una mañana, una de sus compañeras le contó que el agua más sabrosa que podría tomar, es la que cae del cielo en un día lluvioso. La vaca se emocionó mucho con la idea, desde entonces procuró estar atenta a las nubes para esperar la lluvia y poder beber directamente de ella esta sabrosa agua.
Una tarde el horizonte se puso gris, las nubes de tormenta comenzaron a desfilar sobre la pradera y la vaca vio llegar su oportunidad anhelada. Cuando comenzaron a caer las gotas de lluvia, sacó su lengua y como pudo bebió varios sorbos para calmar su sed.
¡Estaba maravillada! El agua tenía un sabor delicioso y único. Su amiga se colocó cerca de ella y le preguntó:
—¿Te parece bien ese sabor?
—Si, esto si es agua —decía lamiendo al aire.
—Pues debes saber que el agua del estanque tiene ese mismo sabor siempre, es la lluvia la que llena el abrevadero y el granjero siempre cuida de que el agua esté limpia y fresca. La lluvia alimenta también al rio y de allí nos surten agua a todas nosotras. Así que tus temores y malestares siempre fueron en vano.
La vaca quejumbrosa se quedó pensativa. Sabía que su amiga tenía razón. Después de aquel suceso, nunca más hablo mal del sabor del agua del estanque, pero cada vez que llovía, salía afuera para beber directamente del cielo.
---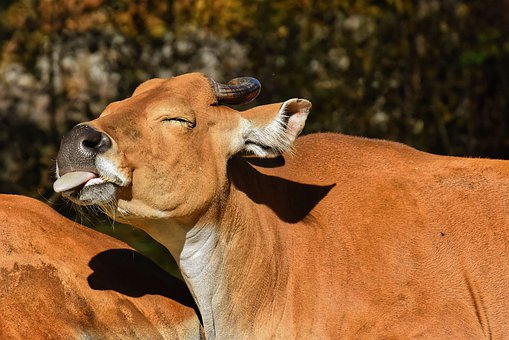 Esta invitación es solo para 100 personas, no pierdas la tuya: https://discord.gg/jCS6kZ4
---
By @latino.romano
Life in the meadow was a sweetness, all the animals in the field were very happy with the things they received and found in nature.
However, in the stable there was a cow who had a different way of thinking from the rest. She liked the care she received from her caretakers, the food was delicious for her, but she complained that the water she drank from the pond had a strange taste.
-It tastes tasteless! -she said annoyed.
Her companions didn't understand the complaint, to them it seemed that the water was fine, but they saw how her friend refused to drink from the pond because of her discomfort.
It happened that the complaining cow had never taken water from anywhere but the pond, and she wanted to try water from other sources, hoping it would taste different.
One morning, one of her classmates told her that the tastiest water she could drink is the one that falls from the sky on a rainy day. The cow was very excited with the idea, since then she tried to be attentive to the clouds to wait for the rain and be able to drink directly from it this tasty water.
One afternoon the horizon turned gray, the storm clouds began to parade over the prairie and the cow saw her desired opportunity. When the raindrops began to fall, she pulled out her tongue and, as she could, drank several sips to quench her thirst.
She was amazed! The water tasted delicious and unique. Her friend stood next to her and asked:
-Do you like that taste?
-Yes, this is water," she said, licking in the air.
-It's the rain that fills the trough and the farmer always makes sure the water is clean and fresh. The rain also feeds the river and from there they supply water to all of us. So your fears and discomforts were always in vain.
The complaining cow thought. She knew her friend was right. After that event, I never again speak ill of the taste of the pond water, but every time it rained, it went outside to drink directly from the sky.
---