Por @latino.romano
El horno presume de agradable olor. Canela y azúcar impregnan el aire, unas notas de maní se acomodan en un lugar dentro de los panecillos.
Un títere de ojos grandes se guarda dentro de un bolso de mano. Su ropa de esmoquin le da un toque elegante y clásico. Ella ensaya la voz con la que espera contar el cuento del día.
Caritas felices pasan por su mente mientras ordena unos papeles apresurada. Es el escape perfecto a los gritos de su esposo, quien le reclama por una camisa que el mismo ha perdido. Sus amenazas se pierden entre las voces y risas de los niños a los que espera atender pronto.
Una lágrima corre tímidamente por su mejilla al escuchar cómo tira la puerta, como de costumbre, el enfadado.
Una mirada rápida al espejo le permite componer las huellas de la realidad de su vida. Allí dejará su pasado y su tristeza para vestirse de felicidad y entusiasmo para sus niños. Todos somos artistas en un escenario, actores que lucen historias que salen de un guión escrito por alguien más.
Llena de alegría sale a su trabajo la maestra Adelaida, cargando en su bolso su muñeco cuenta cuentos, y llevando en la cesta de su bicicleta panecillos de canela y maní. En el pueblo la esperan sus alumnos, pequeños niños de preescolar que añoran verla llegar para contagiarse de su energía y buenos modales, de su sonrisa y alegría; su heroína que no parece tener penas que cargar, pero que en el fondo de su corazón encierra cada mañana el dolor de una desafortunada vida real.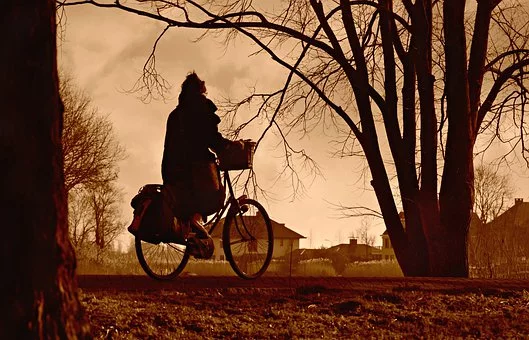 Gheyzer J. Villegas (@latino.romano) es un escritor hispano de relatos y poemas, miembro del mundialmente reconocido grupo The Allince para quien escribe estos textos inéditos…
English version
By @latino.romano
The furnace boasts a pleasant smell. Cinnamon and sugar permeate the air, a few notes of peanuts settle into a place inside the rolls.
A large-eyed puppet is stored inside a handbag. His tuxedo clothes give him an elegant and classic touch. She rehearses the voice with which she hopes to tell the story of the day.
Happy faces pass through her mind as she hastily orders some papers. It's the perfect escape from her husband's screams, who is claiming him for a shirt he himself has lost. Her threats are lost amidst the voices and laughter of the children she hopes to attend to soon.
A tear runs shyly down her cheek as she hears the angry man slam the door as usual.
A quick glance in the mirror allows him to compose the traces of the reality of his life. There he will leave his past and his sadness to dress in happiness and enthusiasm for his children. We are all artists on a stage, actors who shine stories that come out of a script written by someone else.
Full of joy, the teacher Adelaide goes out to her work, carrying her storytelling doll in her bag, and carrying cinnamon and peanut rolls in her bicycle basket. In the village, her students wait for her, little pre-school children who miss seeing her arrive to catch her energy and good manners, her smile and joy; her heroine who seems to have no sorrows to carry, but who in the depths of her heart holds every morning the pain of an unfortunate real life.
Versão portuguesa
Por @latino.romano
A fornalha tem um cheiro agradável. Canela e açúcar impregnam o ar, algumas notas de amendoins instalam-se num lugar dentro dos rolos.
Um boneco de olhos grandes é guardado dentro de uma mala de mão. As suas roupas de smoking dão-lhe um toque elegante e clássico. Ela ensaia a voz com a qual espera contar a história do dia.
Caras felizes passam pela mente dela enquanto ela pede apressadamente alguns papéis. É a fuga perfeita dos gritos do marido, que o reclama por uma camisa que ele próprio perdeu. Suas ameaças se perdem em meio às vozes e risos das crianças que ela espera atender em breve.
Uma lágrima corre-lhe timidamente pela bochecha enquanto ela ouve o homem zangado bater com a porta como sempre.
Um olhar rápido no espelho permite-lhe compor os traços da realidade da sua vida. Lá ele deixará seu passado e sua tristeza para se vestir de felicidade e entusiasmo por seus filhos. Somos todos artistas em um palco, atores que brilham histórias que saem de um roteiro escrito por outra pessoa.
Cheia de alegria, a professora Adelaide sai para o seu trabalho, carregando a sua boneca contadora de histórias na bolsa e carregando canela e rolos de amendoim na sua cesta de bicicleta. Na aldeia, os seus alunos esperam por ela, crianças da pré-escola que sentem falta de vê-la chegar para apanhar a sua energia e boas maneiras, o seu sorriso e alegria; a sua heroína que parece não ter tristezas para carregar, mas que no fundo do seu coração segura todas as manhãs a dor de uma infeliz vida real.