Por @latino.romano
La noticia se corrió por toda la aldea como una gran primicia, al principio nadie mostró algún interés, pero luego era la sensación del pueblo.
Un joven comentó alegremente en el mercado que el fenómeno era una roca espacial con el centro de hielo. Las personas que le escucharon no veían nada asombroso en un trozo de hielo y menos en un pedazo de roca por mucho que viniera del espacio o por poco común que fuera el hielo en el desierto.
—¡Pero es un fenómeno pocas veces visto, una vez cada 100 años ocurre —señaló el joven con insistencia.
La gente empezó a interesarse al escuchar ese detalle. El joven relató cómo se ven estelas azules en la cola del cometa debido a la acción de la radiación del Sol.
Las personas comenzaron a interesarse y pronto cada quien contaba las palabras del joven y agregaba algún dato fantástico más. "Se trata de un cometa que pondrá al Sol azul" dijo una señora. "El Sol derretirá el hielo del cometa y lloverá en el acto" dijo un sujeto de blanco turbante.
Todos en la aldea se entusiasmaron tanto con la noticia, que rápidamente salieron a buscar la duna más alta para poder ver con claridad al cometa, una euforia colectiva se apoderó de ellos. Unos corrían, otros preparaban sus teléfonos móviles para grabar el evento. Una larga caravana de trajes blancos dejaba sus huellas en la arena caliente. Todos deseaban ver al cometa ahora.
Un anciano se acercó al joven que aún se mantenía en el mercado, mirando desde lejos el tropel de la gente y le preguntó:
—Ese cometa del que hablas ¿Se ve solo de noche, cierto?
—¡Si! —respondió el muchacho— así que no entiendo porque todos corren a las dunas si apenas son las diez de la mañana…
---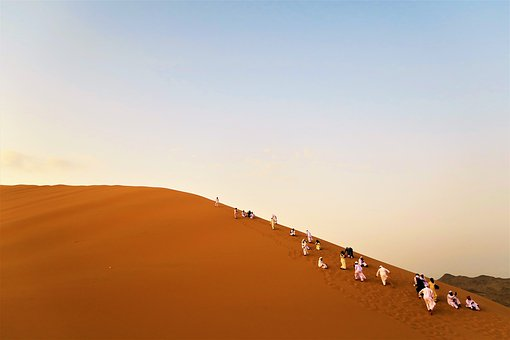 Esta invitación es solo para 100 personas, no pierdas la tuya: https://discord.gg/jCS6kZ4
---
By @latino.romano
The news spread throughout the village like a great scoop, at first no one showed any interest, but then it was the feeling of the people.
A young man cheerfully commented at the market that the phenomenon was a space rock with the center of ice. The people who listened to him saw nothing amazing in a piece of ice and less in a piece of rock no matter how much it came from space or how uncommon the ice was in the desert.
-But it is a phenomenon rarely seen, once every 100 years, -the young man insistently pointed out.
People became interested when they heard that detail. The young man related how blue stelae are seen on the tail of the comet due to the action of the Sun's radiation.
People became interested and soon everyone would tell the young man's words and add some more fantastic facts. "It's a comet that will make the Sun blue," said one lady. "The Sun will melt the ice from the comet and it will rain on the spot," said a subject in a white turban.
Everyone in the village was so excited about the news that they quickly went out to look for the highest dune to clearly see the comet, a collective euphoria took hold of them. Some were running, others were preparing their mobile phones to record the event. A long caravan of white suits left their tracks in the hot sand. Everyone wanted to see the comet now.
An old man approached the young man who was still in the market, looking down at the crowd of people and asked him:
-That comet you're talking about, you see it only at night, right?
-Yes, -replied the boy- so I don't understand why everyone runs to the dunes if it's barely ten o'clock in the morning….
---