Por @latino.romano
Transcurren los días como el agua que fluye en un rio, sin descanso ni intención de volver en la dirección opuesta.
Izo mis velas para encontrar el mejor viento, el que pueda hacer despegar mi estancada nave. Un silbido fuerte retumba en las cuerdas que se amarran al mástil, es una burla disimulada de la vida que puede atisbar mi futuro y mirar más allá en los sinuosos recodos de mi ruta, y adelantarse a presenciar mi fracaso.
Enormes muros de decepción se levantan como gigantes a ambos lados del cauce. Huellas pantanosas de náufragos perdidos se van borrando con el suave toque de las olas. Las lágrimas se confunden entre la bruma y la neblina que bañan las rocas, y el ocaso cierne pesadas sombras que apagan las sonrisas.
Una luna radiante brilla en el cielo tintado de nubarrones. Expectante y silenciosa busca consolar la angustia, pero está muy lejos para dar un abrazo; la distancia es enorme para dar una palmada al hombro cansado.
En la baranda de babor me siento enfocando mis pensamientos al norte. Soy consciente de que pronto se levantará un furioso vendaval, un asesino despiadado que destruirá mi barco sin compasión alguna. Lo he soñado, lo he cantado, lo he gritado con dolor en la inmensidad del océano donde nadie, salvo los peces, me escuchan sin mostrar interés.
Mis rodillas están débiles de tanto recorrer distancias sin llegar a ningún sitio. El casco del barco está lleno de rayones y desgastado por la travesía sin fin. Un terrible olor a cobre se cuela por cada rincón de la cubierta. Ni las aves se atreven a posarse pues saben que no encontrarán nada que morder.
Ha llegado la hora de rendirme. Estoy convencido de haber navegado en círculos infructuosos, de haber dañado a los que tripularon conmigo, de haber mentido a los que me confiaron sus valiosas cargas creyendo que llegaría a algún puerto seguro. No he llegado a ningún puerto seguro ni llegaré jamás. Mi destino está en el fondo oscuro del mar. Mi esperanza es convertirme en madera encallada, en restos de un naufragio que nadie buscará porque a nadie le importa.
Ignoraré a los que nunca me escribieron, a los que no pensaron en mí, a los que rieron a carcajadas cuando el amanecer resplandeció sobre sus rostros y decidieron olvidar al que no tenía su misma sangre de nobles.
Nunca existí, nunca hablé ni conté fantásticas historias de mis viajes. No me enfrenté a terribles sifones ni descubrí mi pecho ante punzantes tormentas. Jamás puse mi pie sobre suelo habitado, ni estreché mis manos con las de personajes famosos. No escribí esta historia, jamás volví para contarla a nadie.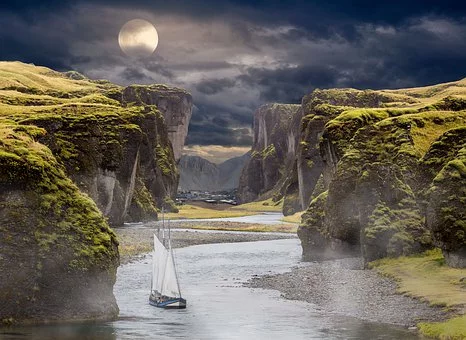 Gheyzer J. Villegas (@latino.romano) es un escritor hispano de relatos y poemas, miembro del mundialmente reconocido grupo The Allince para quien escribe estos textos inéditos…
By @latino.romano
Days pass like water flowing in a river, without rest or intention of returning in the opposite direction.
I hoist my sails to find the best wind, the one that can make my stagnant ship take off. A loud whistle rumbles in the ropes that are tied to the mast, it is a disguised mockery of life that can glimpse my future and look beyond the winding bends of my route, and come forward to witness my failure.
Huge walls of disappointment rise up like giants on both sides of the river. Swampy traces of lost castaways are erased by the gentle touch of the waves. Tears are mixed up with the mist and fog that bathes the rocks, and the sunset casts heavy shadows that extinguish the smiles.
A radiant moon shines in the cloudy sky. Expectantly and silently it seeks to comfort the anguish, but it is too far away to give a hug; the distance is too great to pat the tired shoulder.
On the port side rail I sit focusing my thoughts to the north. I am aware that a furious gale will soon rise, a ruthless killer who will mercilessly destroy my ship. I have dreamed it, I have sung it, I have shouted it with pain in the immensity of the ocean where no one, except the fish, hears me without showing interest.
My knees are weak from walking so much without getting anywhere. The hull of the boat is full of scratches and worn out by the endless voyage. A terrible smell of copper pervades every corner of the deck. Even the birds dare not perch, for they know they will find nothing to bite.
The time has come for me to surrender. I am convinced that I have sailed in fruitless circles, that I have harmed those who crewed with me, that I have lied to those who entrusted me with their precious cargoes in the belief that I would reach some safe port. I haven't reached any safe harbor and I never will. My destiny is on the dark bottom of the sea. My hope is to become stranded wood, the wreckage of a shipwreck that no one will look for because no one cares.
I will ignore those who never wrote to me, those who did not think of me, those who laughed out loud when the dawn shone on their faces and decided to forget the one who did not have their own noble blood.
I never existed, I never spoke or told fantastic stories of my travels. I didn't face terrible siphons or discover my chest in the face of sharp storms. I never set foot on inhabited ground, nor did I shake hands with famous people. I did not write this story, I never returned to tell it to anyone.