Por @latino.romano
Existe un lugar donde la fuerza es lo mismo que el viento, un elemento constante y presente en todas partes.
Donde gigantes tienen un hogar debajo del polvo árido, donde reposan dormidos, carentes de toda energía vital. En ese sitio las tormentas tienen paso libre y pueden procurar llevarse hasta la última lágrima del compasivo, pues no existen montañas ni peñascos poderosos que demoler.
Un reto clama al alba por la atención de los durmientes. Una aspiración enfurecida que mana dolor punzante en los ojos y parte los labios resecos por el viento caliente.
Las nubes se quedan a la distancia, esperando que el bullicio pase y tome un segundo impulso. Consejeras en reunión con un criterio en común que juzga lo justo y lo apropiado, pero que no sentencian a ningún acusado, pues no hay leyes que seguir ni edictos que respetar; al menos eso creen los habitantes de la nada.
No hay granizo y no hay nieve, no hay lluvia y no hay sol. Pero un manto azul se corona como rey entre el espacio y los astros, y una perla dorada se esconde bajo la sábana de seda.
En las cumbres del vacío lucen ostentosos elementos fulgurantes. Amenazan con acabar la paz y el sosiego de una tierra arisca ante la vida. Gruñen mostrando los dientes para no ser estorbados y en la base del manto blanco se precipitan como un raudal sorpresivo esperado. Una línea de electrones que se adentra en las profundidades del canapé de los hombres de metal que se inquietan ante el alboroto.
Emergen de su escondite los que pocas veces son vistos. Impulsados por la fuerza de los elementos que los regresan a la vida.
Un espectáculo de colores y sensaciones, un carrusel de frases que esconden su verdadero sentido. Una imagen abrumadora de ocasiones reservadas a los entendidos y solo juzgadas por los que se aventuran en terreno desconocido y no temen al fracaso.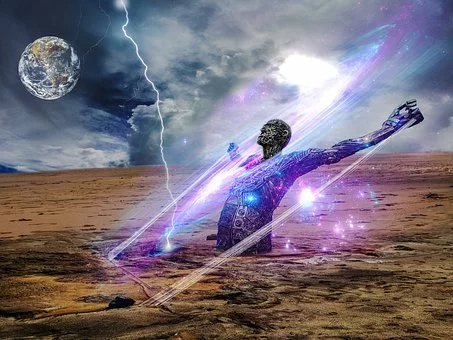 Gheyzer J. Villegas (@latino.romano) es un escritor hispano de relatos y poemas, miembro del mundialmente reconocido grupo The Allince para quien escribe estos textos inéditos…
By @latino.romano
There is a place where force is the same as wind, a constant element present everywhere.
Where giants have a home beneath the arid dust, where they rest in their sleep, caretakers of all life energy. In that place storms have free passage and can chase away every last tear of the compassionate, for there are no mountains or powerful rocks to demolish.
A challenge cries out at dawn for the attention of the sleepers. A raging aspiration that sends sharp pain into the eyes and part of the lips parched by the hot wind.
The clouds stand in the distance, waiting for the bustle to pass and take a second turn. Consequences in the meeting with a common criterion that judges what is just and what is right, but they do not sentence any of the accused, for there are no laws that they follow nor edicts that they respect; at least that is what the inhabitants of nothing believe.
There is no hail and no snow, no rain and no sun. But a blue mantle is crowned as king among the space and the stars, and a golden pearl is hidden under the silk sheet.
On the summits of the void there are ostentatious glowing elements. They threaten to end the peace and tranquility of a land that is arid in the face of life. They grunt, showing their teeth so as not to be disturbed, and at the base of the white mantle they rush in like an expected surprise stream. A line of electrons that goes deep into the canapé of the metal men who are uneasy at the sight of the uproar.
Those that are rarely seen emerge from their hiding place. Driven by the force of the elements that bring them back to life.
A show of colours and sensations, a carousel of phrases that hide their true meaning. An overwhelming image of occasions reserved for the understood and only judged by those who venture into unknown territory and do not fear failure.