Por @latino.romano
Una tonada que aviva sentimientos y rencores. Espacio para la reflexión y los incómodos recuerdos.
Pasé mis días queriendo olvidar lo ocurrido, añorando la esperanza de sanar las heridas abiertas para las que no había medicina. Los pensamientos eran rebeldes e indoblegables ante mis intenciones de callarlos. Deseosos de hablar y expresar toda su ira y su veneno.
Mis manos temblaban ante la angustia de confrontarlos valerosamente. El valor: ¡Una coraza de oro puro que no poseo! Aroma a especias y hojas secas vinieron en mi auxilio para controlar mis nervios.
Gradualmente me hice más fuerte que mis penas, llegué a ser mejor guerrero que mis voces acosadoras. Mi semblante se hizo duro y mis ojos se secaron hasta descamar mi piel.
Solo ideas felices me visitaban, como damas enamoradas que cortejan a su galante caballero y doncellas curiosas que asoman la mirada tras las cortinas de los salones de baile, intrigadas por las palabras dulces de futuros pretendientes.
La paz se convirtió en la norma, el sosiego impregnó el aire para respirar. Solo risas y mejillas estiradas balbuceaba en mis conversaciones; en mis sueños lúcidos mientras recibía la atención de familiares y amigos.
Cuando desperté… todo era diferente. Todo estaba preparado para no hacerme daño alguno. Todo menos el viejo piano, el cual me miraba con astucia invitándome a sentarme a su lado.
Acepté su invitación fatídica, sin avistar sus intenciones impertinentes. Una sola tonada basto para despertar a la bestia; una sola para avivar sentimientos y rencores.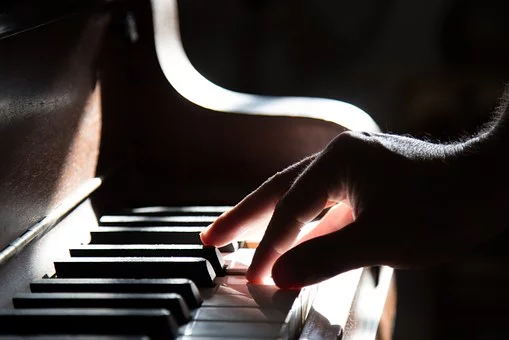 Gheyzer J. Villegas (@latino.romano) es un escritor hispano de relatos y poemas, miembro del mundialmente reconocido grupo The Allince para quien escribe estos textos inéditos…
By @latino.romano
A tune that stirs up feelings and grudges. Space for reflection and uncomfortable memories.
I spent my days wanting to forget what happened, longing for the hope of healing the open wounds for which there was no medicine. The thoughts were rebellious and unbending in the face of my intentions to silence them. Eager to talk and express all their anger and their poison.
My hands trembled at the anguish of courageously confronting them. Courage: A shield of pure gold that I do not possess! Spices and dry leaves came to my aid to control my nerves.
Gradually I became stronger than my sorrows, I became a better warrior than my harassing voices. My countenance became hard and my eyes dried up until my skin peeled off.
Only happy ideas visited me, like ladies in love courting their gallant knight and curious maidens peering behind the curtains of the ballrooms, intrigued by the sweet words of future suitors.
Peace became the norm, tranquillity permeated the air to breathe. Only laughter and stretched cheeks babbled in my conversations; in my lucid dreams as I received the attention of family and friends.
When I woke up… everything was different. Everything was set up so that I would not be harmed in any way. Everything except the old piano, which looked at me slyly, inviting me to sit down next to it.
I accepted his fateful invitation, unaware of his impertinent intentions. A single tone was enough to awaken the beast; a single tone to stir up feelings and grudges.