Por @latino.romano
Me senté en mi sillón después de cerrar la puerta y descolgar el teléfono, pretendía mirar seriamente la ventana a la calle, esperando contar cuantos de mis conocidos íntimos vendrían a tocar mi puerta para saber de mí.
A los pocos minutos noté que en esta era tecnológica mis amigos seguro me llamarían por teléfono para preguntar por mi bienestar, así que lo conecté de nuevo.
Los días pasaron y nadie llamaba, nadie tocaba a mi puerta. Supongo que extrañarían mi ausencia pero rápidamente pensarían que viajaba o solo tenía mucho trabajo, así que decidí esperar más días.
La maleza comenzó a adueñarse de mi patio, el polvo pintó mis ventanas de un madre perla opaco. Jamás sonó el teléfono, jamás escuché el golpe seco de la puerta. Entendí que nadie vendría por motivo de inquirir sobre mi suerte.
Me levanté y tomé el teléfono para llamar a cada uno de mis conocidos, estaba seguro de que me mencionarían que estaban a punto de llamarme, pero me sorprendió la frialdad con la que me respondieron; algunos siquiera reconocieron mi voz.
Justo cuando estaba por perder la fe, un sobre blanco se deslizó por debajo de mi puerta. Era una nota de un vecino, decía: "Espero se encuentre bien, han pasado algunos días y veo que su basura sigue en frente de su casa. Recuerdo que usted me visitó cuando estuve en el hospital, fue muy amable de su parte"
No pude contener las lágrimas de felicidad, entendí que muchas veces recibimos aquello que damos. No debía pensar en los supuestos amigos que no se preocupaban por mi, debía pensar en aquellos verdaderos compañeros por quienes yo me preocupaba a diario.
Limpié la casa y preparé un pastel, y escribí una nota de agradecimiento para mi vecino…
---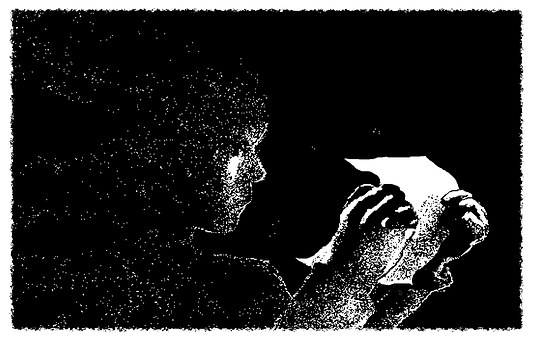 Esta invitación es solo para 100 personas, no pierdas la tuya: https://discord.gg/jCS6kZ4
---
By @latino.romano
I sat in my armchair after closing the door and picking up the phone, I intended to look seriously at the window to the street, hoping to count how many of my intimate acquaintances would come to knock on my door to hear from me.
A few minutes later I noticed that in this technological age my friends would surely call me on the phone to ask about my well-being, so I connected it again.
The days passed and nobody knocked, nobody knocked on my door. I guess they would miss my absence but would quickly think I was traveling or just had a lot of work, so I decided to wait longer.
The weeds began to take over my yard, dust painted my windows an opaque mother of pearl. The phone never rang, I never heard the knocking of the door. I understood that no one would come for the sake of inquiring about my fate.
I got up and picked up the phone to call each one of my acquaintances, I was sure they would mention that they were about to call me, but I was surprised at the coldness with which they answered me; some even recognized my voice.
Just as I was about to lose faith, a white envelope slipped under my door. It was a note from a neighbor, he said: "I hope you are well, some days have passed and I see that your trash is still in front of your house. I remember that you visited me when I was in the hospital, it was very kind of you.
I could not contain the tears of happiness, I understood that many times we receive what we give. I should not think of the supposed friends who didn't care about me, I should think of those true companions for whom I cared on a daily basis.
I cleaned the house and made a cake, and wrote a thank-you note for my neighbor…
---