Por @latino.romano
Como fuerza invisible los gobernaba en cada aspecto de su vida. Una comunidad de esclavos que solo atendían las ordenes de su amo.
"No hay mañana" decían desesperados, con la mirada iracunda y la cuenca de sus ojos hundidas y sombrías. No caminaban… ¡corrían! A cualquier lugar que iban daban traspiés en su deseo de llegar a tiempo y no ser señalados.
Era una condena auto impuesta por sus creencias, grabada con cincel en sus corazones y mentes, con fuego sobre su piel hasta dejar una profunda cicatriz. Todos clamaban con egoísmo y arrogancia: "No tengo tiempo" Se apresuraban a hacer todo, y todo lo hacían a medias por su falta de raciocinio y mesura.
Se les veía flacos y pálidos, con ropas desaliñadas y marcas de arañazos. Solían salir despavoridos cuando el reloj de la plaza daba sus campanadas.
"¡No hay tiempo!" decían desesperados… "¡Se acaba el tiempo!" se lamentaban sin que hubiera quien los consolara.
Sin embargo su vida era normal, pues todos en el pueblo pensaban de la misma manera, todos adolecían de la misma locura. El tiempo era la bestia que los asechaba constantemente, Apenas tenían tiempo para respirar…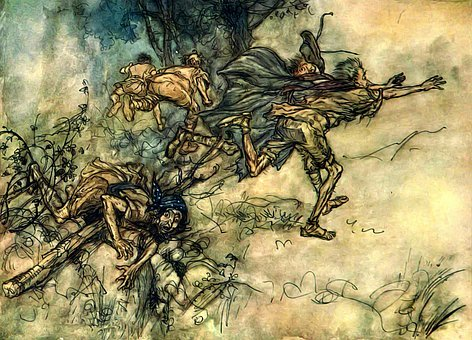 Gheyzer J. Villegas (@latino.romano) es un escritor hispano de relatos y poemas, miembro del mundialmente reconocido grupo The Allince para quien escribe estos textos inéditos…
English version
By @latino.romano
As an invisible force he ruled them in every aspect of their lives. A community of slaves who only obeyed their master's orders.
"There is no tomorrow," they would say in despair, their eyes sunken and gloomy. They did not walk… they ran! Everywhere they went they stumbled in their desire to be on time and not be pointed out.
It was a self-imposed condemnation of their beliefs, chiseled into their hearts and minds, with fire on their skin until it left a deep scar. They all cried out with selfishness and arrogance, "I have no time." They rushed to do everything, and did everything by halves because of their lack of reasoning and restraint.
They looked thin and pale, with dishevelled clothes and scratch marks. They used to go out in a panic when the clock in the square chimed.
"There's no time!" they would say in desperation… "Time is running out!" they would lament without any consolation.
Yet their life was normal, because everyone in the village thought the same way, everyone suffered from the same madness. Time was the beast that constantly stalked them, they barely had time to breathe…
Versão em português
Por @latino.romano
Como uma força invisível, ele os governou em todos os aspectos de suas vidas. Uma comunidade de escravos que só obedeciam às ordens do seu amo.
"Não há amanhã", diriam eles em desespero, os seus olhos afundados e sombrios. Eles não andaram… eles correram! Onde quer que fossem, tropeçavam no seu desejo de chegar a tempo e não serem apontados.
Foi uma condenação auto-imposta de suas crenças, esculpida em seus corações e mentes, com fogo em sua pele até deixar uma cicatriz profunda. Todos gritaram com egoísmo e arrogância: "Não tenho tempo". Apressaram-se a fazer tudo, e fizeram tudo pela metade por falta de raciocínio e contenção.
Eles pareciam finos e pálidos, com roupas desgrenhadas e marcas de arranhões. Eles costumavam sair em pânico quando o relógio na praça chimeava.
"Não há tempo!" eles diriam em desespero… "O tempo está a acabar!" eles lamentariam sem qualquer consolo.
Mas a vida deles era normal, porque todos na aldeia pensavam da mesma maneira, todos sofriam da mesma loucura. O tempo era a besta que os perseguia constantemente, eles mal tinham tempo para respirar…