Por @latino.romano
Una idea se había anidado en su mente, toda una historia fantástica que la hacía sonreír.
En las noches largas que frecuentaban la granja, cuando la brisa fresca del ocaso peinaba los pastizales; solía mirar al cielo e imaginar su hogar allí. ¿Cuán lejos se puede llegar en la creación? ¿Hasta dónde puedes dejar huellas si tuvieras la oportunidad de pisar más allá de donde alcanzan a mirar tus ojos.
"Pequeños puntitos luminosos", así definía la abuela a las estrellas. Su madre le indicaba que eran luciérnagas que volaban muy alto y luego no podían regresar, así que le enviaban señales a sus amigas para que subieran a buscarlas.
Deseaba ser una luciérnaga para ir al cielo a brillar, pero sabía perfectamente que se trataban de cuerpos celestes mucho más grandes que un pequeño insecto.
Si eran planetas, entonces se podía andar en ellos, se podía correr sobre sus montañas y se podía arrojar piedras en sus lagos; pero ¿cómo llegar allá?
La pequeña Susan no tenía una respuesta a esa pregunta. Su abuela le decía que no era posible, su madre, que era cuestión de llenar varios globos para flotar, hasta que el aire te hiciera llegar hasta ellos.
La inocencia es una gran puerta al mundo de la imaginación, un mundo donde todo es posible si tienes el interés suficiente. No existen reglas en ese lugar, y los límites son como amigos que te alientan a ganar en una carrera.
Cada noche sale Susan a caminar en el sendero de los pastizales. Lleva su maleta repleta de dulces y rocas para lanzar a los lagos, sus lentes oscuros para evitar el brillo del Sol… y sus globos inflados con sueños, esperando que el viento la lleve al espacio exterior.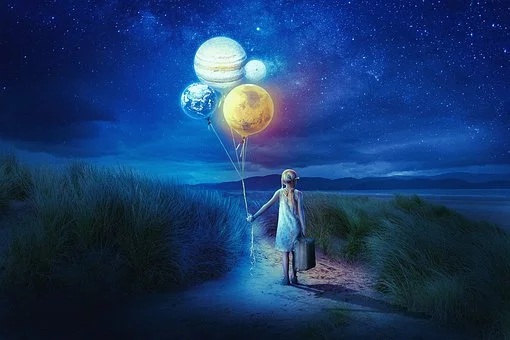 Gheyzer J. Villegas (@latino.romano) es un escritor hispano de relatos y poemas, miembro del mundialmente reconocido grupo The Allince para quien escribe estos textos inéditos…
By @latino.romano
An idea had nested in her mind, a whole fantastic story that made her smile.
On the long nights they frequented the farm, when the cool evening breeze combed the pastures; she used to look at the sky and imagine her home there. How far can you go in creation? How far can you leave footprints if you had the chance to step beyond where your eyes can see.
"Little luminous dots", that's how Grandma defined the stars. Her mother told her that they were fireflies that flew very high and then couldn't return, so she sent signals to her friends to go up and look for them.
She wanted to be a firefly to go up to the sky to shine, but she knew perfectly well that they were much larger heavenly bodies than a small insect.
If they were planets, then you could walk on them, you could run on their mountains and you could throw stones into their lakes-but how would you get there?
Little Susan did not have an answer to that question. Her grandmother told her that it was not possible, her mother, that it was a matter of filling several balloons to float, until the air made you reach them.
Innocence is a great door to the world of imagination, a world where everything is possible if you have enough interest. There are no rules in that place, and limits are like friends who encourage you to win in a race.
Every night Susan goes out for a walk on the grassland trail. She carries her suitcase full of sweets and rocks to throw into the lakes, her dark glasses to avoid the sun's glare… and her balloons inflated with dreams, waiting for the wind to carry her off into outer space.