Por @latino.romano
Un héroe anónimo que viste su capa cada mañana, que hace gala de sus habilidades y su potencial para el bien.
Las calles del pueblo se ven acosadas por sus enemigos contantes, el efecto abrasivo y desgastador de sus amenazas van acortando su belleza, su valía y su propia vida. Lágrimas suelen correr por las paredes arropadas por las malas intenciones de sus captores.
Pero la esperanza llega con el amanecer cuando el héroe agita en el aire su espada simbólica, poniendo en fuga a cada malvado y llenando sus endurecidos corazones de temor.
Sacude las calles a su paso. Poderoso paso y vigoroso actuar que trae alegría donde antes había tristeza. La gente saluda al verlo pasar, pero sin advertir que se trata de su héroe, de alguien que los salva a diario de las calamidades que inexorablemente el clima y el viento traen sobre ellos.
El polvo es un enemigo, la suciedad es compañera de las enfermedades y la miseria. Cualquier pueblo que sucumbe a sus garras termina en desolación, pero la labor fiel y desinteresada del barrendero mantiene a raya a la calamidad. Nadie lo nota, dan por sentado los hechos. Pero sin él tendrían muchas incomodidades.
Al despuntar el Sol en las colinas cercanas, se ve la nube de polvo puesta en fuga por el laborioso hombre que con afán mueve su escoba para limpiar las calles y calzadas.
Todo queda reluciente en pocas horas, a la espera de la faena del viento y la tarde que atacarán de nuevo para ensuciarlo todo. El héroe anónimo saldrá a la noble defensa del pueblo al día siguiente.
---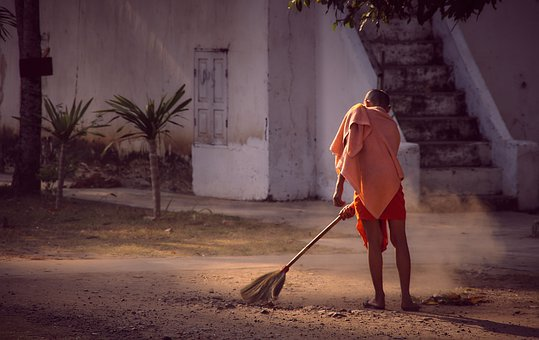 Esta invitación es solo para 100 personas, no pierdas la tuya: https://discord.gg/jCS6kZ4
---
By @latino.romano
An anonymous hero who wears his cape every morning, displaying his skills and potential for good.
The streets of the village are harassed by their constant enemies, the abrasive and wearing effect of their threats are shortening their beauty, their worth and their own life. Tears often run down walls wrapped in the evil intentions of their captors.
But hope comes at dawn when the hero waves his symbolic sword in the air, fleeing each evil one and filling his hardened hearts with fear.
He shakes the streets in his wake. Powerful step and vigorous act that brings joy where there used to be sadness. People greet him as he passes by, but without realizing that he is their hero, someone who saves them daily from the calamities that the weather and the wind inexorably bring upon them.
Dust is an enemy, dirt is a companion to disease and misery. Any town that succumbs to its claws ends in desolation, but the faithful and disinterested labor of the sweeper keeps calamity at bay. No one notices, they take the facts for granted. But without him they would have a lot of discomfort.
As the Sun rises in the nearby hills, one sees the cloud of dust put into flight by the industrious man who eagerly moves his broom to clean the streets and driveways.
Everything is shining in a few hours, waiting for the work of the wind and the afternoon that will attack again to dirty everything. The anonymous hero will go out to the noble defense of the people the next day.
---