Por @latino.romano
Mucho antes que sonara el reloj despertador, los niños ya estaban en pie con sus trajes de baño puestos.
Básicamente no habían dormido nada debido a la emoción que suponía para ellos viajar a la playa aquel día. Estaban seguros de que sería una experiencia muy divertida y que disfrutarían a lo grande.
La madre en la cocina terminaba de colocar los emparedados y las bebidas en la bolsa de viaje. El padre se aseguraba de que las baterías de la cámara fotográfica tuvieran la carga necesaria para las numerosas tomas que harían. Hasta el perro deambulaba por la casa portando un salvavidas canino color naranja.
La abuela se tomaba las cosas con más calma, el abuelo solía quejarse de dolores en la espalda, pero ese día parecía haber perdido unos diez años, pues cargaba las maletas en la camioneta con mucha energía. Todos estaban emocionados y contentos por el viaje.
Pronto el sol comenzó a salir, y el cielo azul anunciaba un perfecto día de verano para los bañistas.
Durante el recorrido por la autopista, el tráfico no fue un problema. No importaban las largas filas de autos, pues dentro del vehículo todos cantaban al ritmo de la radio. Por primera vez en muchos días los niños no peleaban entre sí, la madre no criticaba la forma de conducir de su marido y los abuelos no se quejaban de sus dolores.
Al llegar al balneario, sus caras largas se hicieron evidentes. Una extraña plaga de algas toxicas había llegado a la costa la tarde anterior y las autoridades tuvieron que cerrar la playa e impedir el acceso de los turistas. Estaría en esa condición al menos un par de días más.
Durante el regreso, el tráfico fue horrible, la madre insistía en indicarle al padre como conducir la camioneta. Los abuelos comenzaron a quejarse de los dolores de sus huesos, y los niños se peleaban por ir en el asiento de la ventana.
Que calamidad cuando se frustran los planes de diversión. Muy pocas fotos fueron tomadas ese día. Solo una destacaba para el recuerdo, la de una playa totalmente desierta, visitada por una plaga de algas y sin ningún turista en sus cálidas arenas.
---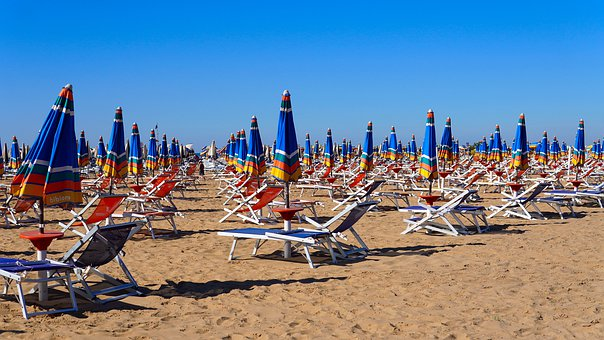 Esta invitación es solo para 100 personas, no pierdas la tuya: https://discord.gg/jCS6kZ4
---
By @latino.romano
Long before the alarm clock rang, the children were already standing with their bathing suits on.
Basically they hadn't slept at all because of the excitement it was for them to travel to the beach that day. They were sure that it would be a very fun experience and that they would enjoy it to the fullest.
The mother in the kitchen had finished putting the sandwiches and drinks in the travel bag. The father made sure that the camera batteries had the necessary charge for the many shots they would take. Even the dog wandered around the house carrying an orange canine life jacket.
Grandmother took things more calmly, grandfather used to complain of back pain, but that day seemed to have lost about ten years, as he carried the suitcases in the van with a lot of energy. Everyone was excited and happy about the trip.
Soon the sun began to rise, and the blue sky announced a perfect summer day for swimmers.
During the highway ride, traffic was not a problem. The long lines of cars did not matter, as inside the vehicle everyone sang to the rhythm of the radio. For the first time in many days the children didn't fight with each other, the mother didn't criticize her husband's driving and the grandparents didn't complain about their pains.
When they arrived at the spa, their long faces became evident. A strange plague of toxic algae had arrived on the coast the previous afternoon and the authorities had to close the beach and prevent tourists from entering. It would be in that condition for at least a couple of more days.
On the way back, the traffic was horrible, the mother insisted on telling the father how to drive the van. The grandparents began to complain about their bone pains, and the children fought to get in the window seat.
What a calamity when plans for fun are frustrated. Very few photos were taken that day. Only one was outstanding for the memory, that of a totally deserted beach, visited by a plague of algae and without any tourist in its warm sands.
---