Por @latino.romano
Escoge con calma sus lápices favoritos. Un buen trozo de papel y un tranquilo sitio, una pieza de pastel de chocolate exquisito.
En su mente una gran historia se perfila con entusiasmo, una aventura que conoce de memoria, tres personajes cobran vida de inmediato. El niño sonríe y muerde el pastel con satisfacción notoria, comienza a hacer su dibujo, será un bonito retrato.
Tres amigos muy sonrientes, pasean por un camino. Todos enseñan los dientes, van en busca de su destino, que será una olla con agua ardiente, sal, orégano y algo de comino. Una suculenta sopa para deleitar a un amigo, uno que come pastel, y lo disfruta como un niño.
Primero va la cebolla, saludando con elegancia. Todos aman su aroma, su delicada fragancia. Al verla algunos lloran, les da sentimientos saber su importancia; sin ella no habrá sabor en ninguna sopa ni en ninguna estancia.
Detrás viene la señora papa, con sus zapatos color rosa. Trae un bolso de mano para dar sustancia a la sopa, algo que se pueda morder y la ponga más cremosa; pero el boso ¿Qué contiene? Algo para pintar su boca.
Luego pasa la zanahoria, en fila siguiendo el baile. Ella es muy divertida, saluda y sonríe con su cabellera al aire. Hay que dibujarla muy bien, con los colores favoritos, el verde y el naranja, también el rojo se verá bonito. Mejor quedará la sopa con todos estos amiguitos. El niño ríe y toma el pastel para darse otro gustito.
Esta listo el dibujo, ahora hay que colgarlo. La nevera es un buen lugar donde poder mostrarlo. A la hora del almuerzo será una gran sugerencia, hacer una rica sopa y gozar con urgencia, del buen sabor de las cebollas, las papas y las zanahorias; porque sobre el pastel de chocolate podremos escribir luego otra historia.
---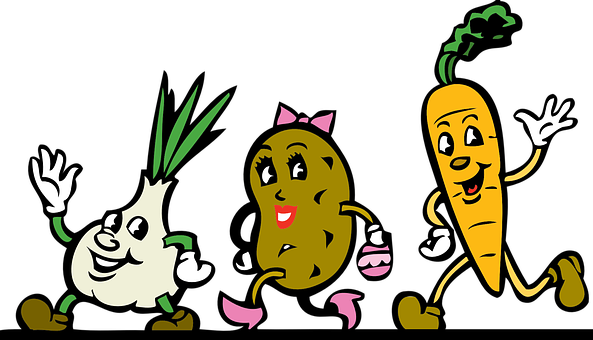 Esta invitación es solo para 100 personas, no pierdas la tuya: https://discord.gg/jCS6kZ4
---
By @latino.romano
Calmly choose him favorite pencils. A good piece of paper and a quiet place, a piece of exquisite chocolate cake.
In his mind a great story is outlined with enthusiasm, an adventure he knows by heart, three characters come to life immediately. The child smiles and bites the cake with notorious satisfaction, begins to make his drawing, it will be a beautiful portrait.
Three very smiling friends walk along a path. They all show their teeth, they go in search of their destiny, which will be a pot with burning water, salt, oregano and some cumin. A succulent soup to delight a friend, one who eats cake, and enjoys it like a child.
First go the onion, greeting with elegance. Everyone loves its aroma, its delicate fragrance. Without it there will be no taste in any soup or in any room.
Behind her comes Mrs. Dad, with her pink shoes. She brings a handbag to give substance to the soup, something that can be bit and make it creamier; but the bear What does it contain? Something to paint her mouth.
Then he passes the carrot, in line following the dance. She is very funny, greeting and smiling with her hair in the air. You have to draw her very well, with the favorite colors, green and orange, also the red will look nice. The soup will be better with all these little friends. The boy laughs and takes the cake to give himself another treat.
The drawing is ready, now you have to hang it. The fridge is a good place to show it. At lunch time it will be a great suggestion, to make a delicious soup and enjoy urgently, the good taste of onions, potatoes and carrots; because on the chocolate cake we will be able to write another story later.
---