Por @latino.romano
Algunas personas salen a la calle y caminan a la oscuridad. No importa cuántos pasos den, las sombras de los problemas siempre los siguen de cerca, del lado opuesto a la luz.
La austeridad de las palabras son el uniforme regio de un corazón herido; de uno que no necesita dar explicaciones para hacer entender su pena. La maleza crece en suelo donde la mano del cultivador es floja. Pero en ciertos suelos la sequía implacable no permite que ni el más diligente coseche siquiera espinos.
Delante de mí está un camino por recorrer. Las penumbras de la tarde llaman a las sobras profundas a su jornada laboral. No transito un camino de rosas, tampoco ensucian mis pies la áspera arena reseca. No refresca mi cuello la brisa suave perfumada de hiervas aromáticas, tampoco lo abrasa el vapor sofocante del desierto seco.
Solo poso mi pie sobre las huellas de otros que han caminado antes que yo, que se han movido más rápido o más lento; pero siempre en la misma dirección, hacia el mismo destino llamado esperanza.
¿Quién valora lo que soy o lo que hago? ¿Quién aguarda por mí con palabras amables y deseos de verme? ¿A quién le importa en qué tramo de la ruta voy o si me he detenido a contemplar los cielos para mirar el saludo de las nubes?.
La felicidad es un espejismo que se refleja en el suelo resquebrajado a un lado del camino. Una liebre silvestre que avista a su enemigo y se pone en fuga velozmente en el lado opuesto de la vía.
Si corro tras ella para beber de sus aguas, ¿se esfumará? Si la persigo para atraparla y probar su carne, ¿desaparecerá rápidamente en una madriguera?
Como mujer hermosa me sonríe a ambos lados del sendero. Con astucia me tienta a perderme entre sus cabellos. Pero jamás me dejará acercarme y besar su mejilla, no me dejará sentir la suave piel de sus manos.
Así que prefiero ignorarla y hacer caso omiso a sus encantos. El cadáver de un árbol me recuerda a cada instante que estoy en lo correcto. La usencia de abejas que buscan néctar me dice que el aroma de las flores no es real. Sigo mi trayecto sin desviar el pensamiento, este camino absurdo algún día debe terminar; después de todo no he visto a nadie recorrerlo de vuelta, todas las marcas en la arena apuntan a una misma dirección.
Lejos en el horizonte veo aves que vuelan en círculos, como si retozaran alegres sobre mejores prados. Quizá sea el fin glorioso de un andar hastiado.
Aves negras que no trinan ni anidan, quizá sea un final fatídico, un festín de los cuerpos de viajeros que fueron olvidados.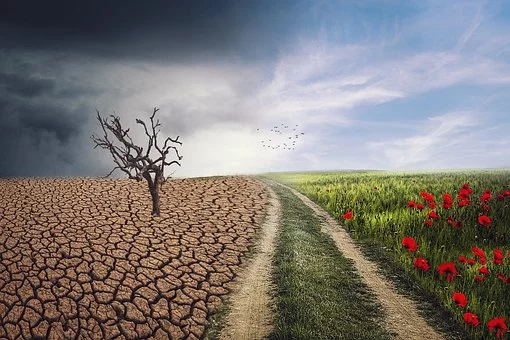 Gheyzer J. Villegas (@latino.romano) es un escritor hispano de relatos y poemas, miembro del reconocido grupo The Allince para quien escribe estos textos inéditos…
By @latino.romano
Some people go out into the street and walk into the darkness. No matter how many steps they take, the shadows of trouble always follow closely, on the opposite side of the light.
The austerity of words is the regal uniform of a wounded heart; of one who does not need to give explanations to make his sorrow understand. Weeds grow in soil where the cultivator's hand is loose. But in certain soils the implacable drought does not allow even the most diligent to harvest thorns.
In front of me is a way to go. The darkness of the afternoon calls the deep leftovers to their working day. I do not walk a path of roses, nor do my feet soil the rough, dry sand. The soft breeze perfumed with aromatic herbs does not refresh my neck, nor does the suffocating steam of the dry desert.
I only place my foot on the footprints of others who have walked before me, who have moved faster or slower; but always in the same direction, towards the same destiny called hope.
Who values what I am or what I do? Who waits for me with kind words and the desire to see me? Who cares in what stretch of the road I go or if I have stopped to contemplate the skies to look at the greeting of the clouds?
Happiness is a mirage reflected in the cracked ground on one side of the road. A wild hare that warns its enemy and quickly escapes on the opposite side of the road.
If I run after her to drink from her waters, will she vanish? If I chase her to catch her and taste her flesh, will she quickly disappear into a burrow?
As a beautiful woman she smiles at me on both sides of the path. With cunning she tempts me to lose myself in her hair. But she will never let me near her and kiss her cheek, she will not let me feel the soft skin of her hands.
So I prefer to ignore it and ignore its charms. The corpse of a tree reminds me at every moment that I am right. The use of bees looking for nectar tells me that the aroma of flowers is not real. I continue my journey without diverting my thought, this absurd path must someday end; after all I have not seen anyone walk it back, all the marks in the sand point in the same direction.
Away on the horizon I see birds flying in circles, as if they were frolicking happily over better meadows. Perhaps it is the glorious end of a jaded walk.
Black birds that neither sing nor nest, perhaps it is a fateful end, a feast of the bodies of travellers who were forgotten.