Por @latino.romano. (Basado en un chiste popular)
El boxeador escucha la campana y sale furioso a llenar de golpes a su contrincante.
Mueve sus brazos con astucia y rapidez, pero solo golpea al aire. Constantemente se estremece al ver como se le oscurecen los ojos y su visión se apaga. Es el efecto de los golpes contantes que su oponente le propina.
Suena la campana de nuevo, el regresa a sentarse. Ya no reconoce a sus ayudantes ni a su entrenador.
Tiene que calmarse porque parece que desea pelear con todos.
—¡Entrenador! —grita confundido— ¿Cómo vamos en el marcador? ¿Qué oportunidad tenemos de ganar?
Su entrenador, un hombre de experiencia en estos menesteres, lo mira con profundidad, buscando en su mente palabras gentiles para expresarle la verdad; finalmente le dice:
—Bueno, si en este round lo matas… empatamos.
Descargo de responsabilidad: Las opiniones que se traslucen en este texto obedecen a la óptica personal del autor quien, como toda persona, tiene derecho a expresarlas respetuosamente.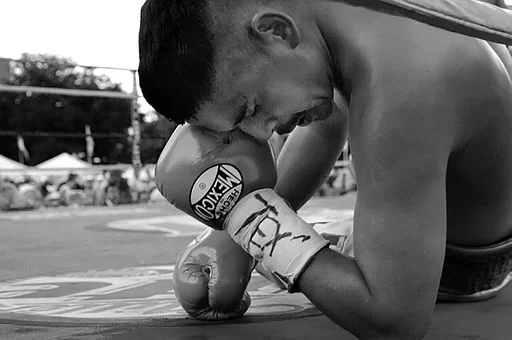 Basado en un chiste popular…
English version
By @latino.romano
The boxer hears the bell and storms out to punch his opponent.
He moves his arms with cunning and speed, but only hits the air. He constantly shudders as his eyes darken and his vision fades. This is the effect of the constant hits his opponent delivers.
The bell rings again, he sits down again. He no longer recognizes his assistants or his coach.
He has to calm down because he seems to want to fight them all.
-Coach! -he shouts in confusion. "How are we doing on the scoreboard? What chance do we have of winning?
His coach, a man of experience in these matters, looks at him deeply, searching his mind for gentle words to express the truth; finally he tells him:
-Well, if you kill him this round… -We'll draw.
Disclaimer: The views expressed in this text are those of the author, who, like everyone else, is entitled to express them respectfully.
Versão em português
Por @latino.romano
O pugilista ouve o sino e as tempestades para esmurrar o seu adversário.
Ele move seus braços com astúcia e velocidade, mas só bate no ar. Ele treme constantemente enquanto seus olhos escurecem e sua visão se desvanece. Este é o efeito dos golpes constantes que o seu oponente faz.
A campainha toca outra vez, ele senta-se outra vez. Ele já não reconhece os seus assistentes ou o seu treinador.
Ele tem de se acalmar porque parece querer lutar contra todos eles.
-Treinador! -Ele grita em confusão. "Como estamos no placar? Que hipóteses temos de ganhar?
O seu treinador, um homem de experiência nestes assuntos, olha-o profundamente, procurando na sua mente palavras suaves para expressar a verdade; finalmente ele lhe diz:
-Bem, se o matares nesta ronda… Vamos sacar.
Aviso: Os pontos de vista expressos neste texto são os do autor, que, como todos os outros, tem o direito de expressá-los respeitosamente.