Por @latino.romano
Me levanté temprano, eran eso de las 5:30 am. Siempre suelo estar activo a esa hora, dicen que somos una especie crepuscular. Afortunadamente no somos ruidosos, así que mi dueña nunca se entera cuando despierto por ella misma duerme a esa hora.
Me preocupa que últimamente solo me dan verduras para comer. Es cierto que son muy sabrosas, pero yo debo comer principalmente heno porque su fibra favorece mi digestión.
Desde ayer no me siento muy bien, no tengo apetito y mi barriga me duele un poco. Mi dueña lo nota y decide llevarme con el veterinario. Él le confirma que tengo íleo (parálisis intestinal), ordena unos rayos x y afortunadamente no es un problema grave en mi caso. El veterinario dice que bastará con darme unos masajes en mi barriga y poner más heno para comer.
Muy pronto estaré bien y seguiré correteando por toda la casa como tengo por costumbre.
Tener una mascota exige responsabilidad y conocer las medidas básicas para su cuidado. Un pequeño conejo puede ser una fuente de alegría, pero son animales sensibles al descuido humano. Afortunadamente existe una enorme cantidad de información sobre ellos que podemos leer para aprender.
Descargo de responsabilidad: Las opiniones que se traslucen en este texto obedecen a la óptica personal del autor quien, como toda persona, tiene derecho a expresarlas respetuosamente.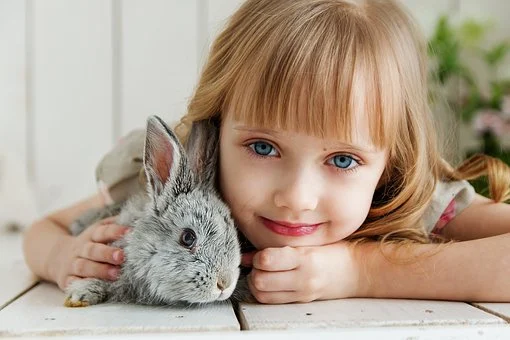 Gheyzer J. Villegas (@latino.romano) es un escritor hispano de relatos y poemas, miembro del mundialmente reconocido grupo The Alliance para quien escribe estos textos inéditos…
English version
By @latino.romano
I got up early, it was about 5:30 am. I'm always active at that time, they say we're a twilight species. Luckily we are not noisy, so my owner never finds out when I wake up by myself she sleeps at that hour.
I worry that lately they only give me vegetables to eat. It's true that they are very tasty, but I must eat mainly hay because its fibre helps my digestion. Since yesterday I don't feel very well, I have no appetite and my stomach hurts a little.
My owner notices this and decides to take me to the vet. He confirms that I have ileus (intestinal paralysis), orders an x-ray and fortunately it is not a serious problem in my case.
The vet says that it will be enough to massage my belly and put some more hay to eat. Very soon I'll be fine and I'll keep running around the house as I usually do.
Having a pet requires responsibility and knowing the basic measures for its care. A small rabbit can be a source of joy, but they are animals sensitive to human neglect. Fortunately there is a huge amount of information about them that we can read to learn.
Disclaimer: The views expressed in this text are those of the author, who, like everyone else, is entitled to express them respectfully.
Versão em português
Por @latino.romano
Levantei-me cedo, eram cerca de 5:30 da manhã. Nessa altura, estou sempre activo, dizem que somos uma espécie crepuscular.
Felizmente não somos barulhentos, por isso a minha dona nunca descobre quando acordo sozinha que ela dorme a essa hora. Preocupa-me que, ultimamente, só me dêem vegetais para comer. É verdade que são muito saborosos, mas tenho de comer sobretudo feno, porque a sua fibra ajuda à minha digestão.
Desde ontem que não me sinto muito bem, não tenho apetite e dói-me um pouco o estômago. O meu proprietário repara nisto e decide levar-me ao veterinário. Ele confirma que eu tenho íleo (paralisia intestinal), pede um raio-x e felizmente não é um problema grave no meu caso.
O veterinário diz que será suficiente massajar-me a barriga e pôr mais algum feno para comer. Muito em breve estarei bem e continuarei a correr pela casa, como costumo fazer.
Ter um animal de estimação requer responsabilidade e conhecer as medidas básicas para os seus cuidados. Um coelho pequeno pode ser uma fonte de alegria, mas são animais sensíveis ao desleixo humano. Felizmente, existe uma enorme quantidade de informação sobre eles que podemos ler para aprender.
Aviso: Os pontos de vista expressos neste texto são os do autor, que, como todos os outros, tem o direito de expressá-los respeitosamente.