Por @latino.romano
El tiempo transcurre con tranquilidad como siempre. La vida en los prados, sin embargo, no presume de esa misma calma. En cualquier momento puede haber una estampida repentina, una ola de patas que hacen vibrar el suelo con su huir despavoridas.
Los peligros que azotan detrás de las lomas o las rocas son comunes. Un depredador siempre será un depredador. Una presa siempre será una presa, esa es la ley hoy, con el tiempo se dirá que es una ley prehistórica.
Los brontosaurios siempre miran al suelo o a las ramas altas de los árboles. A veces miran a la distancia, cuando oyen un ruido poco común, en especial si tienen crias.
Nunca miran al cielo, ¿por qué lo harían? No hay una razón lógica para que ellos hagan eso. Pero esta mañana, en el cielo, pareciera haber dos soles. El de siempre, el que brilla con fuerza, y luego uno más pequeño, como un punto destacado que sobresale de las nubes, este último tiene una cola de fuego.
Los saurios lo miran desde el prado, inocentes ante lo que se les avecina. Están acostumbrados a ver brotar la hierba por acción del Sol, pero pronto entenderán que el segundo sol, el de la cola de fuego, vendrá para chamuscarlo todo, incluso a ellos mismos.
Un gran volcán hace erupción a lo lejos, una montaña de llamas se levanta hasta el cielo azul, luego un estruendo poderoso lo sacude todo. Finalmente no hay más que poder contar. Serán sus huesos los que testifiquen después de muchos años. Cuando las estampidas sigan sucediendo pero dejen de ser algo común.
---
By @latino.romano
Time passes peacefully as always. Life in the meadows, however, does not boast of that same calm. At any moment there can be a sudden stampede, a wave of legs that make the ground vibrate with their flight in terror.
The dangers that hit behind the hills or the rocks are common. A predator will always be a predator. A prey will always be a prey, that is the law today, with time it will be said that it is a prehistoric law.
Brontosaurs always look at the ground or the tall branches of trees. Sometimes they look into the distance, when they hear an unusual noise, especially if they have children.
They never look at the sky, why would they? There is no logical reason for them to do that. But this morning, in heaven, there seemed to be two suns. The usual one, the one that shines brightly, and then a smaller one, like a prominent point that stands out from the clouds, the latter has a tail of fire.
The saurians look at him from the meadow, innocent before what is coming. They are accustomed to seeing the grass sprout by the action of the Sun, but soon they will understand that the second sun, that of the tail of fire, will come to scorch everything, even to themselves.
A large volcano erupts in the distance, a mountain of flames rises to the blue sky, then a powerful roar shakes everything. Finally there is nothing more to be able to tell. It will be his bones that testify after many years. When the stampedes continue to happen but cease to be common.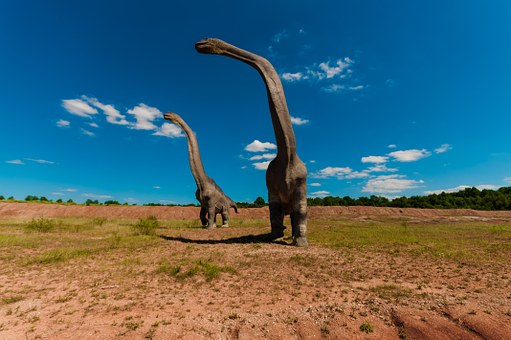 Hoy te recomiendo leer este poema que contiene expresiones para pensar. Disfruten leyendo a:
@roadstories
---
Las imágenes son propias, de colaboradores o cortesía de Pixabay.com autorizando su uso al autor del blog @latino.romano bajo licencia CC0. Puedes hacer click en la imagen para ver su fuente. Si te ha gustado, no dudes en compartirlo y apoyar al escritor.