Por @latino.romano
El viento daba en mi rostro con fuerza, no por la rapidez de mi paso, sino por la naturaleza del espacio a mi alrededor.
Era preciso que llegara a la hora indicada, no podía haber retraso alguno en mi intento por evitar su partida. La desesperación era como combustible que alimentaba mis piernas. Corría y corría sin sentir dolor ni cansancio. El sudor bajaba por mi frente y me picaba los ojos, aun así continuaba sin perder el norte de mi misión.
El camino estaba desolado, las figuras de cactus parecían saludarme al pasar, era grosero al no detenerme, pero no tenía tiempo de charlar con la vegetación.
Nubes densas de polvo atinaban a arroparme. Escupía arena con mi saliva espesa. A veces el Sol me llama para regañarme, pero debo seguir sin distraerme si quiero llegar a tiempo.
¿Vuelan los zorros? ¿Comen rocas las aves? Alucinaciones acuden a mi mente como público a un espectáculo gratuito. Se empaña mi visión, pero todavía sigo viendo la línea en medio del camino, una línea que serpentea y se mece como las olas del mar.
Sigo corriendo por mi vida, la vida en la palma de tu mano, que con un beso soplaste como pluma. Si mi paso apuro, podré evitar el sufrimiento del abandonado, la desdicha del afligido, el pan del perezoso.
Espérame mientras llego. Corro con todas mis fuerzas hasta tu lugar de partida. Espero que este camino largo termine pronto, que todavía el atardecer salude las montañas cuando exhale mi último aliento.
---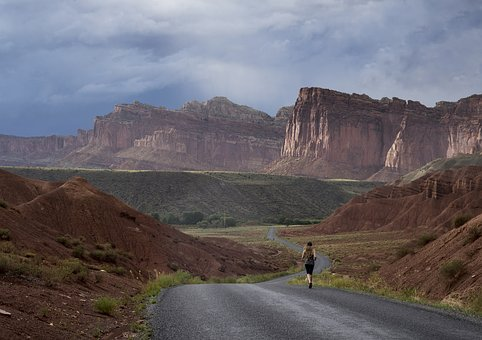 Esta invitación es solo para 100 personas, no pierdas la tuya: https://discord.gg/jCS6kZ4
---
By @latino.romano
The wind was strong on my face, not because of the speed of my pace, but because of the nature of the space around me.
I had to arrive at the right time, there could be no delay in my attempt to avoid his departure. Despair was like fuel feeding my legs. I ran and ran without pain or tiredness. The sweat came down my forehead and itchy eyes, yet I continued without losing the north of my mission.
The road was desolate, the cactus figures seemed to greet me as I passed, I was rude not to stop, but I had no time to chat with the vegetation.
Dense clouds of dust were able to tuck me in. I spit sand with my thick saliva. Sometimes the Sun calls to scold me, but I must remain undistracted if I want to be on time.
Do foxes fly? Do birds eat rocks? Hallucinations come to my mind as an audience at a free show. My vision fogs, but I still see the line in the middle of the road, a line that snakes and sways like the waves of the sea.
I continue to run for my life, life in the palm of your hand, which with a kiss you blew like a feather. If my step hurries, I will be able to avoid the suffering of the abandoned one, the misfortune of the afflicted one, the bread of the lazy one.
Wait for me while I arrive. I run with all my strength to your place of departure. I hope that this long road will soon be over, that the evening will still greet the mountains when I exhale my last breath.
---