Por @latino.romano
Imagine a una persona lo suficientemente arrogante y petulante como para creer que siempre tiene la razón. Imagine a ese triste ser que está convencido de que todo lo que dice o hace goza de la firma indeleble de lo correcto y bien hecho.
Tiene tanta confianza en sus propias habilidades, que se niega a admitir ni creer en la más mínima posibilidad de que pueda cometer un error.
Una persona así podría estar pisoteando a los demás y creer que eso está bien, que tiene razones para hacerlo, que hay un código moral y ético que, no solo le otorga esa autoridad, sino que le agradece por su aporte.
Todos somos libres de expresar nuestros pensamientos, dicen muchos que alegan justicia. Esto no es cierto, quizá seas libre de expresarte ante tus propios ojos, pero no es así para los que deberán escuchar lo que dices. Todos somos iguales ante la ley, decía el pensador polaco Stanislaw, pero no ante los encargados de aplicarla; esa sí que es una gran verdad de nuestra sociedad.
Ernest Jones definía a ese comportamiento irracional como el "Complejo de Dios", pues quien lo padece, aunque no lo diga abiertamente, es lo que cree que es; un dios.
Tristemente todo dios tiene adoradores. Estos individuos sombríos que ostentan poder y dominación tiene también una larga lista de seguidores que les aplauden cada abuso y callan su propia consciencia con razonamientos falsos y, en muchos casos, una buena dosis de favores recibidos y sobornos. Sus oraciones son las adulaciones diarias que le profesan a su dios, sus sacrificios rituales son aquellos a quienes el dios desprecia y que deben ser ignorados.
El complejo de Dios es una enfermedad, solo los sanos pueden notarlo. Los que cultivan verdadera humildad jamás presentan sus síntomas. Los que no han sido alcanzados por su veneno, pueden tener la certeza y hallar consuelo en la tranquilidad de que no son señalados a sus espaldas.
Todo dios falso tarde o temprano se enfrentará al odio de sus anteriores adoradores, solo bastará que un día no puedan responder alguna oración o dejen de hacerles favores.
---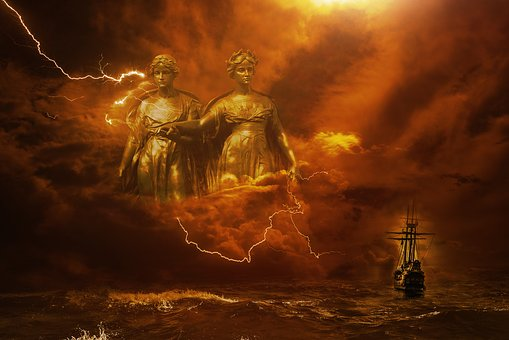 Esta invitación es solo para 100 personas, no pierdas la tuya: https://discord.gg/jCS6kZ4
---
By @latino.romano
Imagine a person who is arrogant and petulant enough to believe that he is always right. Imagine that sad being who is convinced that everything he says or does has the indelible signature of what is right and well done.
He is so confident in his own abilities that he refuses to admit or believe in the slightest possibility that he might make a mistake.
Such a person might be trampling on others and believing that this is okay, that he has reason to do it, that there is a moral and ethical code that not only gives him that authority, but thanks him for his contribution.
We are all free to express our thoughts, many say they claim justice. This is not true, you may be free to express yourself before your own eyes, but it is not so for those who must listen to what you say. We are all equal before the law, said the Polish thinker Stanislaw, but not before those in charge of applying it; that is a great truth of our society.
Ernest Jones defined this irrational behavior as the "Complex of God", because whoever suffers it, even if he doesn't say it openly, is what he thinks he is; a god.
Sadly, every god has worshippers. These shadowy individuals who wield power and domination also have a long list of followers who applaud each abuse and silence their own conscience with false reasoning and, in many cases, a good dose of favors received and bribes. Their prayers are the daily adulations they profess to their god, their ritual sacrifices are those which the god despises and which should be ignored.
God's complex is a disease, only the healthy can notice it. Those who cultivate true humility never present their symptoms. Those who have not been reached by its poison, can be certain and find comfort in the tranquility that they are not pointed at their backs.
Every false god will sooner or later face the hatred of his former worshipers, only it will be enough that one day they cannot answer some prayer or stop doing favors.
---