Por @latino.romano
Las palmadas del tiempo resuenan en mi cabeza como golpes de tambor. El panorama es sombrío detrás de las montañas. Las frescas aguas de los arroyos no fluyen en caída por sus laderas.
El otoño acaricia las ramas bajas de los árboles, el verano se torna fuerte sobre sus ramas nuevas. Las aves no tienen ya donde asentar su nido. Sus polluelos no trinarán esperando alimento, a la distancia se escucharan como un susurro del viento.
El polvo del suelo se levanta como enjambre de insectos, agotando todo el aire y formando nubes oscuras a los pies de las flores. La lluvia entra al galope y encharca por horas las madrigueras de las liebres que no tienen a donde huir.
La noche parece llegar más temprano, sus sombras se esparcen como bandadas de aves que buscan devorar un maizal. El paso del ciervo es inseguro en el terreno pedregoso. Fosas profundas son trampas para sus tobillos.
Los peñascos están roídos por las lágrimas del aguacero. Las vetas de oro y rubí son solo arcilla y lodo. Grietas adornadas por las cumbres nevadas, piden a gritos una melodía melancólica de flautas.
Pero los brotes crecerán, el pasto nuevo florecerá al sentir el cálido baño del Sol y la dulce fragancia del rocío. Pajarillos se posaran sobre las ramas secas, y con sus alas llenarán de colores el triste castaño de las cortezas resecas.
Ya no sonará el tiempo como tambor en mi cabeza. Ya las sombras de la noche tendrán su propio horario asignado. La tierra estará suave, y el polvo que oscurece el paisaje será para cuentos de antaño.
Me levanté y miré al borde de las lejanas montañas, como el brillo de la luz saluda en su llegada.
---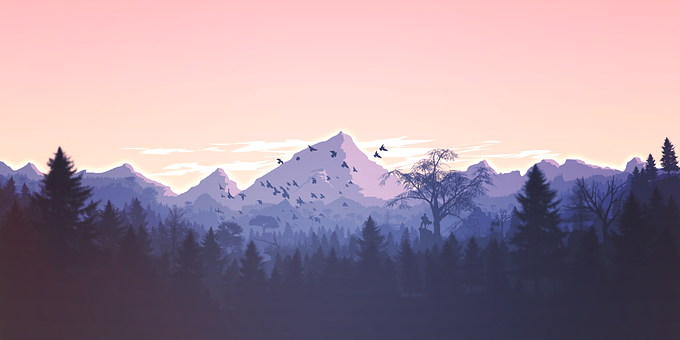 Te invito a escribir en los comentarios de este post a qué crees que se refiere este poema…
Esta invitación es solo para 100 personas, no pierdas la tuya: https://discord.gg/jCS6kZ4
---
---
By @latino.romano
The pats of time resound in my head like drumbeats. The panorama is grim behind the mountains. The fresh waters of the streams do not flow down its slopes.
Autumn caresses the low branches of the trees, summer becomes strong on its new branches. Birds have nowhere else to nest. Their chicks will not chirp waiting for food, at a distance they will be heard as a whisper of the wind.
The dust of the ground rises like a swarm of insects, exhausting all the air and forming dark clouds at the feet of the flowers. The rain gallops in and floods for hours the burrows of hares that have nowhere to flee.
The night seems to arrive earlier, its shadows spread like flocks of birds looking to devour a cornfield. The passage of the deer is unsafe in the stony terrain. Deep pits are traps for their ankles.
The rocks are gnawed by the tears of the downpour. The veins of gold and ruby are only clay and mud. Cracks adorned by the snowy peaks, cry out for a melancholic melody of flutes.
But the buds will grow, the new grass will blossom as you feel the warm bath of the Sun and the sweet fragrance of dew. Birds will rest on the dry branches, and with their wings they will fill the sad chestnut tree of the dried bark with colours.
Time will no longer sound like a drum in my head. Already the shadows of the night will have their own assigned schedule. The earth will be soft, and the dust that darkens the landscape will be for tales of old.
I rose and looked at the edge of the distant mountains, as the glow of light salutes their arrival.
---