Por @latino.romano
Imaginar es vivir, vivir sin la inspiración de imaginar, es recorrer un jardín hermoso sin fijarse en ninguna de sus flores.
Se apresuraba a terminar su tarea, porque la tarde era el mejor momento del día para él. Un refugio de los regaños de sus maestros, un escondite de los mandatos urgentes de su abuelo, un lugar seguro donde poder conversar libremente con su mejor amigo.
Su juego favorito era mirar a través del hoyo de una caja de cartón, donde se escondían por horas enteras, simulando viajes espaciales y aventuras en una máquina del tiempo.
—¿Cómo vamos capitán A? —preguntó su compañero de recreo.
—Muy bien capitán B, estamos llegando a las lunas de Saturno, debemos ajustar la dirección de la nave para no chocar con sus anillos.
—Por cierto, ¿por qué esta nave tiene dos capitanes?
—Es debido al gran valor mostrado en las misiones anteriores; nos han dado a ambos este rango.
Un vistazo rápido por el agujero ponía en alerta a los intrépidos tripulantes. Todas las fascinantes y asombrosas visiones del espacio profundo eran divisadas y narradas con fervorosa emoción infantil. Ajenos a su entorno, se deleitaban en crear un sinfín de mundos extraordinarios para habitar.
—¡Capitán A!, observo una figura extraña acercándose. Parece una nave espacial, pero tiene tentáculos como un pulpo —indicó preocupado.
—Un pulpo espacial de seguro, debe haberlo enviado la gente de Saturno para evitar que aterricemos. ¡Prepare la red para atraparlo!.
Ruidos improvisados con su boca hacían de instrumentos en movimiento, de un cañón para disparar la red y de motores impulsando la nave. La caja de cartón, escenario de tan increíble viaje, se balanceaba de un lado a otro mientras los tripulantes procuraban defenderse del pulpo agresor. No había espacio para el miedo allí, el coraje era la cualidad que mejor los identificaba en esas tardes de diversión.
Suficiente miedo mostraban a lo largo del día, mientras eran víctimas indefensas de una cultura familiar de odio, de abusos verbales y reprimendas exageradas.
Era su válvula de escape, su modo de alejarse mentalmente de aquella realidad tenebrosa. Su forma de encontrar un sentimiento de valía ante las contantes muestras de desprecio ignorante.
—¡¿Con quién estás hablando?! ¡Los locos son los que hablan solos! —espetó una señora con delantal rosado, levantando la caja y arrojándola a un lado furiosamente— recoge estas cosas de inmediato, ya vendrá tu abuelo y te dará una buena sonada.
La misión espacial terminó de pronto, no funcionó la red arrojada a la nave con tentáculos. El niño volvió de súbito a su odiada realidad. Su amigo imaginario se ocultó para protegerse… pero todo estará bien, mañana en la tarde volverán a reunirse, quizá entonces venzan a sus enemigos del espacio.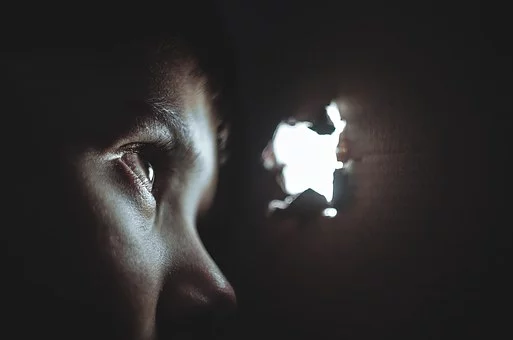 Gheyzer J. Villegas (@latino.romano) es un escritor hispano de relatos y poemas, miembro del mundialmente reconocido grupo The Allince para quien escribe estos textos inéditos…
By @latino.romano
To imagine is to live, to live without the inspiration to imagine, it is to walk through a beautiful garden without looking at any of its flowers.
He would rush to finish his task, because the evening was the best time of day for him. A refuge from his teachers' scolding, a hiding place from his grandfather's urgent commands, a safe place where he could talk freely with his best friend.
His favorite game was to look through the hole of a cardboard box, where they would hide for hours, simulating space travel and adventures in a time machine.
-How are we doing, Captain A? -asked his playmate.
-Very well, Captain B, we are coming to the moons of Saturn, we must adjust the direction of the ship so as not to collide with its rings.
-By the way, why does this ship have two captains?
-It is because of the great value shown in the previous missions; they have given us both this rank.
A quick glance through the wormhole put the intrepid crew on alert. All the fascinating and amazing visions of deep space were sighted and narrated with fervent childlike emotion. Detached from their surroundings, they delighted in creating a host of extraordinary worlds to inhabit.
-Captain A!, I see a strange figure approaching. It looks like a spaceship, but it has tentacles like an octopus," he said worriedly.
-A space octopus for sure, it must have been sent by the people of Saturn to prevent us from landing. Prepare the net to catch it!
Impromptu noises from his mouth were like moving instruments, a cannon firing the net and engines powering the ship. The cardboard box, the scene of such an incredible journey, swayed back and forth as the crew tried to defend themselves from the attacking octopus. There was no room for fear there, courage was the quality that best identified them on those fun-filled afternoons.
Enough fear was shown throughout the day, while they were helpless victims of a familiar culture of hate, verbal abuse and exaggerated reprimands.
It was their escape valve, their way of mentally distancing themselves from that dark reality. It was their way of finding a sense of worth in the face of the constant displays of ignorant contempt.
-Who are you talking to? -The crazy ones are the ones who talk to themselves! -said one lady in a pink apron, lifting the box and throwing it furiously to the side. 'Pick up these things at once, your grandfather will come and give you a good sound.
The space mission ended suddenly, the net thrown to the ship with tentacles did not work. The boy suddenly returned to his hated reality. His imaginary friend hid himself to protect himself… but everything will be fine, tomorrow afternoon they will meet again, maybe then they will defeat their enemies from space.