Por @latino.romano
Voces rosas y blancas que se esfuman entre mis dedos. Brillantes despertares de luz que funden las nubes, la nieve blanca y el cielo.
Un patrón de colores fríos, un poema dulce cantado por sopranos y tenores. Las ramas desnudas se visten de blanca bruma, evocando en los distantes temores. Una campana suena a lo lejos, un tintineo frecuente y melodioso. Un lienzo bien cuidado y derecho, un panorama hermoso.
Las espigas del pasto lucen ancianas con su corona. Se han guardado las flores, del fiero frío ocultan su aroma. Las huellas de las golondrinas se han borrado de la nieve, dando paso a la lechuza que sobre su presa afán fatigoso llueve. No hay gritos ni aullidos que en el lago se escuchen. Pero la vida se abre paso a pesar del blanco invernal que el prado luce.
Una postal de temporada para estaciones soñadas. Idílica expresión de amor que no se compara con nada. Pasa la noche y sale de nuevo el Sol, con él los brillos radiantes que engalanan con esplendor. Una helada en la mañana que parece el tiempo detener. Un prado de figura delicada que seguro te gustará conocer.
---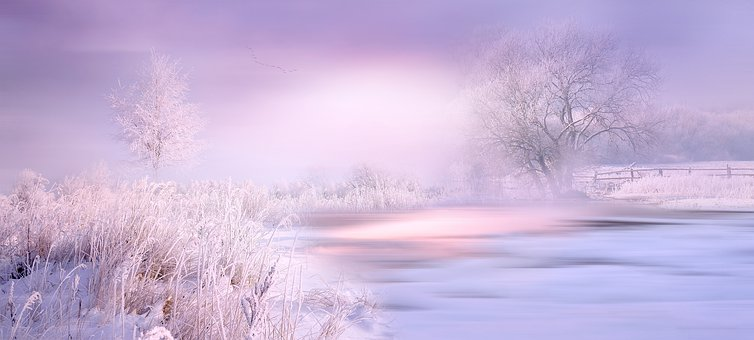 Esta invitación es solo para 100 personas, no pierdas la tuya: https://discord.gg/jCS6kZ4
---
By @latino.romano
Pink and white voices that fade between my fingers. Brilliant awakenings of light that melt the clouds, the white snow and the sky.
A pattern of cold colors, a sweet poem sung by sopranos and tenors. The bare branches are dressed in white mist, evoking distant fears. A bell rings in the distance, a frequent and melodious jingle. A well-kept and straight canvas, a beautiful panorama.
The ears of grass look old with their crown. The flowers have been kept, from the fierce cold they hide their aroma. The footprints of the swallows have been erased from the snow, giving way to the owl that rains over its weary prey. There are no screams or howls that can be heard in the lake. But life makes its way despite the winter white that the meadow shines.
A seasonal postcard for dreamed seasons. Idyllic expression of love that compares to nothing. The night passes and the Sun rises again, with it the radiant shines that adorn with splendor. A frost in the morning that seems to stop time. A meadow of delicate figure that surely you will like to know.
---