Por @latino.romano
Los recuerdos pesan como montones de ladrillos en la espalda. Nos hacen felices al traer a la memoria vivencias pasadas donde la alegría era protagonista, pero también pueden clavarnos una larga daga en el corazón cuando los pensamientos que evocan son sombríos. Algunos pensamientos de ese tipo se acumulan como bloques y aplastan el fatigado espíritu humano.
¿Límites a la sonrisa? ¿Restricciones y fronteras para una vida amena? ¿Quién pone una marca frente a nosotros y un letrero de prohibido el paso cuando queremos volver al pasado?
Añoro los días en los que corría en pantalones cortos y sin camisa por la orilla de la playa, los días en que mi mayor preocupación era comer más dulces que mis hermanos, que mi perro no mordiera mi pelota favorita, los días en que tomar la mano de mi padre era suficiente para calmarme y creer que todo estaba bien.
La libertad no es un eco en el fondo de un cañón olvidado. Tampoco es un ave que remonta el vuelo a la distancia sin más límites que el cielo mismo. Es una idea clavada como espina en lo profundo de la mente. Duele si intentas sacarla, pero todos queremos que salga.
Si tomo una bocanada de aire puro me siento contento, si corro por la pradera y rozo las espigas de los carrizales me siento vivo, si paso el día entero balanceándome en la cuerda frente al árbol me siento fuerte.
No se oscurece mi esperanza ante las adversidades si miro el mar y lo lejano de su horizonte. La grandeza y belleza de su superficie inspiran confianza, la grandeza y belleza de su interior inspira admiración.
¿Quién decide poner freno a mi bienestar? ¿Quién es mi enemigo que desea verme triste y cabizbajo? ¿Acaso no soy yo mismo cuando me digo resignado que estoy viejo? El niño que hay en mi me reclama y se cruza de brazos cuando pienso de esa manera.
Hoy corrí a la playa detrás de nuestro viejo hogar, corrí lo más rápido que pude, saltando entre la hierba alta, me trepé a la cuerda en la columpiaba en mis años mozos y jugué hasta que el atardecer bañó el mar con sus caricias doradas.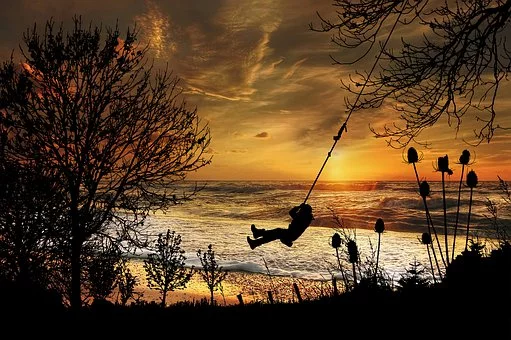 Gheyzer J. Villegas (@latino.romano) es un escritor hispano de relatos y poemas, miembro del mundialmente reconocido grupo The Allince para quien escribe estos textos inéditos…
By @latino.romano
Memories weigh like a pile of bricks on your back. They make us happy by bringing to mind past experiences where joy was the protagonist, but they can also plunge a long dagger into our hearts when the thoughts they evoke are dark. Some such thoughts accumulate like blocks and crush the weary human spirit.
Limits to smiles? Restrictions and boundaries to a pleasant life? Who puts a mark in front of us and a no-go sign when we want to return to the past?
I miss the days when I ran around the beach in shorts and shirtless, the days when my biggest worry was eating more sweets than my brothers, that my dog wouldn't bite my favorite ball, the days when holding my father's hand was enough to calm me down and believe that everything was okay.
Freedom is not an echo at the bottom of a forgotten canyon. Nor is it a bird that soars into the distance with no limits other than the sky itself. It is an idea stuck like a thorn in the depths of the mind. It hurts if you try to get it out, but we all want it out.
If I take a breath of fresh air I feel happy, if I run through the meadow and brush the spikes of the reeds I feel alive, if I spend the whole day swinging on the rope in front of the tree I feel strong.
My hope in the face of adversity is not darkened if I look at the sea and the distance from its horizon. The greatness and beauty of its surface inspires confidence, the greatness and beauty of its interior inspires admiration.
Who decides to put a stop to my well-being? Who is my enemy who wishes to see me sad and downcast? Am I not myself when I say to myself that I am old? The child in me claims me and crosses his arms when I think that way.
Today I ran to the beach behind our old home, I ran as fast as I could, jumping through the tall grass, I climbed the rope on the swing in my younger years, and I played until the sunset bathed the sea with its golden caresses.