Por @latino.romano
Muchas historias narran las épicas aventuras de héroes legendarios. Son pocas, sin embargo, las que tienen por protagonistas a personajes comunes, con hechos nada extravagantes.
Sonni era la mascota más feliz que había tenido la familia en años. Su pequeña estatura y su cuerpo regordete no le impedían correr a toda prisa y con mucha valentía para ahuyentar a los desconocidos. Su ladrar era muy gracioso. Cuando comenzaba parecía ser un perrito muy furioso, pero luego que el intruso se alejaba parecía reír y disfrutar su logro.
Cada mañana, en el campo cercano a la casa, pasaba el tren de las siete. Su tintineo y su silbato alertaban a Sonni, quien salía corriendo desde la cocina como un relámpago para encontrarse con el gigante de metal.
Al llegar a las vías se plantaba firme como un soldado, y daba algunos giros desesperados como preparándose para la gran batalla.
El tren pasaba a toda prisa, retumbando el suelo y haciendo un ruido ensordecedor. Sonni lo correteaba y le ladraba con todas sus fuerzas. No descansaba hasta que todos los vagones desfilaban en frente de él.
Al encontrarse con el último vagón, se subía a las vías y perseguía al tren hasta que su figura se hacía difusa en la distancia.
Sonni volvía entonces feliz, contento con su aparente logro del día. En casa le esperaba un tazón de su comida favorita, el premio para un campeón y feroz guardián.
Así transcurrían los días de oro de Sonni, entre juegos y persecuciones heroicas. Pronto llegaron los años en que las fuerzas fallaban al intentar ladrar o morder. Donde salir de casa y bajar las escaleras era toda una aventura dolorosa.
Pero el amor que le tenían sus dueños era leal y tierno. Para ellos el tiempo se congeló en la época en que Sonni era todo un atleta corriendo detrás de un tren a toda velocidad, sonriendo luego de haberlo ahuyentado de sus dominios.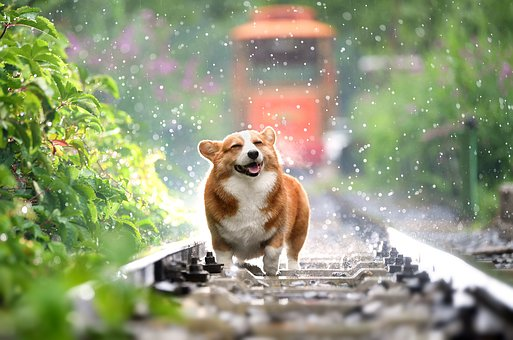 Esta invitación es solo para 100 personas, no pierdas la tuya: https://discord.gg/jCS6kZ4
---
By @latino.romano
Many stories tell the epic adventures of legendary heroes. Few, however, have common characters as protagonists, with facts that are not extravagant at all.
Sonni was the happiest mascot the family had in years. His small stature and chubby body did not prevent him from running fast and courageously to scare off strangers. His barking was very funny. When he started he seemed to be a very furious little dog, but after the intruder left he seemed to laugh and enjoy his achievement.
Every morning, in the field near the house, the seven o'clock train passed by. His tinkling and his whistle alerted Sonni, who ran out of the kitchen like lightning to meet the metal giant. When he reached the tracks he stood firm like a soldier, and made some desperate turns as if preparing for the great battle.
The train rushed past, rumbling on the ground and making a deafening noise. Sonni scampered and barked at him with all his might. He did not rest until all the wagons paraded in front of him.
When he met the last wagon, he got on the tracks and chased the train until his figure became diffuse in the distance. Sonni then returned happy, content with his apparent achievement of the day. At home a bowl of his favorite food awaited him, the prize for a champion and fierce guardian.
So were Sonni's golden days, between games and heroic pursuits. Soon came the years when forces failed to bark or bite. Where to go out of the house and down the stairs was quite a painful adventure.
But the love his owners had for him was loyal and tender. For them time froze at the time when Sonni was a real athlete running after a train at full speed, smiling after having driven him away from his domains.