Por @latino.romano
Nada por aquí, y nada por acá… Ahora me ves, ahora no me ves….
Estas son frases típicas de los profesionales que se dedican al ilusionismo y a los trucos con cartas. Seguro podemos recordar algún evento al que asistimos y nos entretuvimos con un espectáculo asombroso donde un artista nos mostró que en el mundo de la prestidigitación nada es lo que parece.
—Escoja una carta —comenzaba diciendo a alguien elegido entre la multitud— mírela bien y recuérdela, pero no me diga qué carta es.
Mientras decía esto hacía algún movimiento de manos o alguna atractiva asistente nos señalaba donde mirar.
—Devuelva la carta al mazo y ahora quiero que me muestre su billetera.
Finalmente la carta estaba en la billetera del espectador que no cabía en su asombro sobre cómo llegó la carta allí.
Mientras, nos preguntábamos si hábilmente el mago había tomado la billetera del caballero o la asistente nos distrajo para preparar la trampa.
Lo que nunca supimos es que el asombrado espectador en realidad es parte del acto y por eso pudieron engañarnos.
Si la vida fuera como un espectáculo de este tipo, tendríamos que interpretar a algunos de los personajes descritos aquí. ¿Quién preferimos ser? ¿El hábil mago que saca la carta de la billetera y mueve todos los hilos de la trama? ¿La atractiva asistente que conoce el truco y sirve de distracción? ¿El ayudante del público que realmente forma parte del equipo del mago? O ¿El espectador genuino que no sabe cómo lo han engañado, pero que aplaude al final porque al menos se entretuvo?
Es probable que todos o casi todos prefiramos ser el mago de hábiles manos, pero lo cierto es que usualmente somos la persona que pagó su entrada buscando diversión y nunca supimos cómo nos engañaron.
Quizá luego descubramos cómo el mago efectuó su truco, pero para entonces el mago tiene un truco nuevo. La mano suele ser más rápida que el ojo, es la ventaja del artista. Lo interesante es que en el mundo real sí podemos elegir quien ser, podemos entrenar para sacar provecho de las oportunidades que se nos presentan, en lugar de ser solo un espectador esperando ser elegido para participar del acto.
Pero una advertencia puede sernos útil, esto lo aprendí en una película que alguna vez disfruté con mi familia: la vista puede captarlo todo, verlo todo; pero la vista puede ser engañada"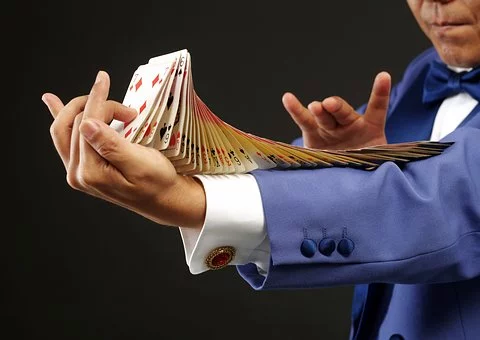 Gheyzer J. Villegas (@latino.romano) es un escritor hispano de relatos y poemas, miembro del mundialmente reconocido grupo The Allince para quien escribe estos textos inéditos…
By @latino.romano
Nothing here, and nothing here… Now you see me, now you don't see me…
These are typical phrases of professionals who are dedicated to illusionism and card tricks. Surely we can remember some event we attended and we were entertained with an amazing show where an artist showed us that in the world of prestidigitation nothing is what it seems.
-He began by saying to someone chosen from the crowd, "Take a good look at it and remember it, but don't tell me which card it is.
As he said this he made some movement of hands or some attractive assistant pointed out where to look.
-He said, "Put the card back in the deck and now I want you to show me your wallet.
Finally the letter was in the wallet of the spectator who could not fit in his astonishment at how the letter got there.
Meanwhile, we wondered if the magician had cleverly taken the gentleman's wallet or the assistant had distracted us to set the trap. What we never knew was that the astonished spectator was actually part of the act and that is why they were able to trick us.
If life were like this kind of show, we would have to play some of the characters described here. Who would we rather be? The skillful magician who takes the card out of the wallet and pulls all the strings of the plot? The attractive assistant who knows the trick and serves as a distraction? The assistant to the audience who is really part of the magician's team? Or the genuine spectator who doesn't know how he was tricked, but applauds at the end because he was at least entertained?
It is likely that all or almost all of us prefer to be the skilled magician, but the truth is that we are usually the person who paid for his ticket looking for fun and we never knew how we were tricked.
We may later find out how the magician performed his trick, but by then the magician has a new trick. The hand is usually faster than the eye, that's the artist's advantage.
The interesting thing is that in the real world we can choose who to be, we can train to take advantage of the opportunities that are presented to us, instead of just being a spectator waiting to be chosen to participate in the act.
But one caveat can be useful, I learned this in a movie I once enjoyed with my family: the eye can catch everything, see everything; but the eye can be deceived.